You know how, sometimes, it seems everyone and your grandma is telling you about this book (or movie) they just experienced. "You can't miss this! It's SOOOO good!" they say.
Well, I'm always cautious about those sort of reviews. If they come from someone I know and trust, I tend to give it more weight. I heard about Alice Clayton's WALLBANGER long before I found it on the shelf. It has over 2000 5-Star reviews on Amazon, all singing such high praise. It's been on my TBR a long time, languishing, because I was afraid to be disappointed by the hype.
SILLY ME!!!!
This is a first-class, snappy, romantic comedy that is long on sexual tension and short on time between laughs. I loved every second of it.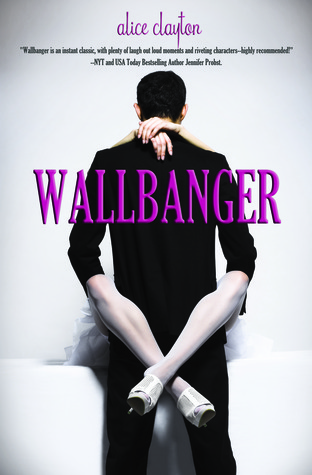 About the book:
The first night after Caroline moves into her fantastic new San Francisco apartment, she realizes she's gaining an intimate knowledge of her new neighbor's nocturnal adventures. Thanks to paper-thin walls and the guy's athletic prowess, she can hear not just his bed banging against the wall but the ecstatic response of what seems (as loud night after loud night goes by) like an endless parade of women.
And since Caroline is currently on a self-imposed dating hiatus, and her neighbor is clearly lethally attractive to women, she finds her fantasies keep her awake even longer than the noise. So when the wallbanging threatens to literally bounce her out of bed, Caroline, clad in sexual frustration and a pink baby-doll nightie, confronts Simon Parker, her heard-but-never-seen neighbor. The tension between them is as thick as the walls are thin, and the results just as mixed. Suddenly, Caroline is finding she may have discovered a whole new definition of neighborly…
In a delicious mix of silly and steamy, Alice Clayton dishes out a hot and hilarious tale of exasperation at first sight…
My Review:
Caroline is a no-nonsense woman. She takes her life, and her job, seriously. She works hard and plays a bit, having two great friends from college with whom she regularly connects. As an interior designer, NOT decorator, she is moving up, taking on bigger clients and adores her boss–another career-focused woman. Caroline is also single. And, semi-okay with that. She had a rather long term thing previously, with a man who wanted her to change too much, to adapt her life to suit his career/life goals, so she walked away. In the interim a sloppy one-night fling destroyed her O–got it lost somewhere out in the Hinterland, always just out of reach.
Hearing the orgasmic caterwauling and banging of her sexually-gifted neighbor's headboard through their adjoining wall (night after night) is wearing down Caroline's patience, however. When the motion of his ocean actually brings down a piece of art, onto Caroline's head, she tears into him in person, and the meet-cute is set.
Simon is a good guy. Sure he has a few regular gals with whom he has no-strings sex, but it's all open. The gals know all about each other, and are comfortable with their casual arrangements. The altercation between Caroline and Simon only becomes more interesting when they meet in person, again, at the home of mutual friends. Inconveniently, Simon's two best buds seem smitten with Caroline's BFFs. They begin a dating circle, alternately inviting either Simon or Caroline out as fifth wheel.
Realizing the awkwardness of their position, Caroline and Simon strike a tentative truce, cemented with baked goods. Simon was orphaned in his teens and craves home-baked treats–while Caroline bakes away her frustration. The truce soon morphs into a friendship. Caroline has no interest in joining Simon's harem, even if he is very attractive. It seems Simon, however, may be changing his ways. One after another of his regular visits seem to be off-schedule.
Caroline isn't sure, but the idea that Simon is interested in a real relationship is certainly appealing to her, and her girly bits. Especially as Simon is a proven O finder. It takes him quite a while, however, and the journey is delicious.
I liked Caroline. She was sexy and sardonic. She talked to her cat as if he was a person. She has a good heart and a lot of respect for herself. At first, she believes Simon to be a shameless womanizer, but learns that he isn't. He's more of an opportunist, I'd say, having discreet relations with a few friends, for mutual satisfaction. When Caroline really gets to know him, she finds him to be very charming, and kind, and someone she honestly fears becoming intimate with, unwilling to upset their friendship. Caroline is a brave lass, however, and Simon can be irresistible, at times. Particularly when he's got the right bait–a luxury trip planned to a destination Caroline longs to visit.
Lookit. This book is really something. If you enjoy romantic comedy, baking, cats with strong personalities, humorous plot twists and/or people slowly falling for each other in a very real way, this book won't let you down. It has some heat, but it won't melt your kindle. And, when the physicality develops, it's all long, long after a true bond has been forged. I was glad I started it on a night the hubs was out-of-town because I couldn't stop reading and spent half the night snortling with suppressed laughter trying not to wake my toddler in the next room. I had to power nap through the wee hours just so I could race to the finish.
Interested? You can find WALLBANGER on Goodreads, Amazon, and Barnes & Noble.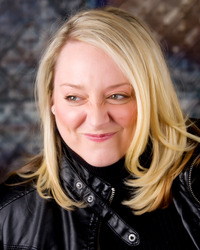 About the Author:
Alice Clayton is a novelist with an unholy love for her KitchenAid mixer. Making her home in St Louis, she enjoys gardening but not weeding, baking but not cleaning up afterwards, and is trying desperately to get her long time boyfriend to make her an honest woman. Hi sweetie!!
After working for years in the cosmetics industry as a makeup artist, esthetician, and national educator for a major cosmetics company, Alice picked up a pen (read laptop) for the first time at 33 to begin a new career, writer. Combining her love of storytelling with a sense of silly, she was shocked and awed to be nominated for a Goodreads Author award in 2010 for her debut novels, The Redhead Series.
Alice has penned three novels, The Unidentified Redhead,The Redhead Revealed, and coming soon in November 2012, Wallbanger. She thinks you should purchase them immediately. She's not kidding, not even a little bit. Everyone needs some comedic erotica in their lives. She is hard at work on the third book in The Redhead Series, set to release in Spring of 2013, continuing the saucy and sexual escapades of everyone's favorite couple, Jack and Grace.
Additionally, Alice loves spending time with her besties on Not Your Mother's Podcast, make sure you check them out at notyourmotherspodcast.com or over on iTunes. 3 women rushing towards their forties still acting like teenagers. A saucy little mix of sex, love, relationships, pop cultural, celebrity gossip and All Things Jake Ryan.
Alice enjoys pickles, Bloody Mary's, 8 hours of sleep, and a good pounding.
Finally Alice would also like all her readers and listeners to help her convince Mt. Alice that the only other thing that would make her truly happy is finally bringing home a Bernese Mountain Dog. She is totally serious. And done talking about herself in the third person.
You can connect with Alice on Goodreads, her website and twitter.
Thanks for popping in and keep reading my friends!