Hi there! Today I'd like to share a YA book that hit several notes with me. TORN AWAY, by acclaimed writer Jennifer Brown, recounts the aftermath of one girl's life after an F5 tornado destroys her hometown in rural Missouri.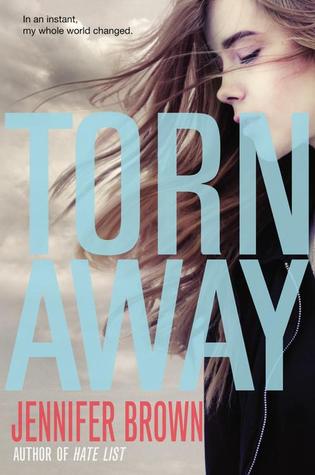 About the Book:
Jersey Cameron has always loved a good storm. Watching the clouds roll in and the wind pick up. Smelling the electricity in the air. Dancing barefoot in the rain. She lives in the Midwest, after all, where the weather is sure to keep you guessing. Jersey knows what to do when the tornado sirens sound. But she never could have prepared for this.
When her town is devastated by a tornado, Jersey loses everything. As she struggles to overcome her grief, she's sent to live with relatives she hardly knows-family who might as well be strangers. In an unfamiliar place, can Jersey discover that even on the darkest of days, there are some things no tornado can destroy?
In this powerful and poignant novel, acclaimed author Jennifer Brown delivers a story of love, loss, hope, and survival.
My Review:
Having grown up in the Illinois, I immediately identified with Jersey–and her almost nonchalance when the tornado sirens go off at 5:16 on a Tuesday evening.  I endured the twice-yearly school tornado drills, kneeling on the hard floor against an internal wall, balled up tight head down with my hands crossed over my neck, from kindergarten through senior year.  I have been there, cooking dinner for my kids watching the winds pick up and the sky darken when those ear-splitting peals have sounded. I have been trapped in the tin can of a moving van driving my earthly possessions cross-country as the anvil cloud formed and the hail pelted down and the rain blew sideways with funnel clouds visible in the NOT NEARLY FAR ENOUGH distance. My son was part of a crew that cleaned up the disaster zone in Washington, Illinois nine months ago when a tornado took out half the town. So, yeah, this book hit me freaking hard.
See, like Californians get inured to earthquakes, Midwesterners get too comfortable with storms. What are the chances one is going to hit, right?
Jersey is a typical teen in a blended family. She has a step-father, Ronnie, and a five y/o half-sister, Marin. At times, Jersey is moody and jealous and self-centered. But mostly, she's a good student who doesn't get into trouble and has friends she gets along with, even if they have more money and Jersey always feels inferior due to their nicer clothes and slimmer bodies. She's never known her father, her mother ran away when she was pregnant, so she's never met her grandparents, either.
Then the tornado comes. Jersey is alone in the house because her mother has taken Marin to dance class and Ronnie has been delayed at work.
The house is torn apart. Jersey survives by hiding under a pool table in the basement which now has a skylight where the kitchen used to be.
She's terrified, as are the rest of the neighbors, who crawl out of their basements only to find their neighborhood, well, gone. Where the houses stood there is either rubble, or nothing.
Cars? Gone.
Street? Impassable, littered with debris.
Trees? They haven't been splintered to lay across the road or toppled over onto houses, they are simply missing. Gaping wounds in the soil bear witness to the storm's intensity, simply plucking them from the ground like carrots. (I had chills too easily visualizing this level of destruction. I want to say I cried, but I didn't because I was so freaking knotted up my heart was racing and the tears sat poised on my eyelashes.)
People encourage Jersey to join them in a nearby shelter–the rain is coming, and they can't tell if another tornado is coming because the sirens have been destroyed–but she opts to wait in the open-air basement, so that she'll be home when her mother returns.
Mild spoiler: Jersey's mom and Marin don't make it. I only reveal this because it sets up the rest of the story. See, after two days of searching and waiting, Jersey is discovered by Ronnie, who is so busted with grief he sends Jersey three hours away to live with her father. That was when I started crying.
Jersey lives with the guilt of surviving. And, she's doing that on a screen porch in a house full of low-lifes and lunatics with a father who–straight out–tells she she's unwanted and of lesser status than his other kids. It is all Jersey can do to cope, yet she does. She keeps notes on Marin, keeping her spirit alive with tiny cartoons and cherishing Marin's most precious treasures rescued from the wreckage. She laments her previously mean ways, wishing to turn time back and do it all differently. Even to have gone to the dance class if it would mean she had died with her mother and sister and not had to live this horrible half-life.
Don't think Jersey is a puddle of woe. She isn't, but she is forgotten and forsaken. Back in her home community, people are rebuilding, and she wants to be a part of that. She wants to feel love–and it isn't happening in her dad's home. Her stepsisters torment her, steal from her, until one day Jersey snaps and an altercation leads to her running away.
She doesn't end up on the streets, however. (THANK GOD!!) In fact, the place she's sent is the exact right place she needs to be. Ronnie is moving back east–he can't bear the loss he's suffered, and Jersey is all tied in with that, so he's leaving her behind, too. No, Jersey's new home is the place her mother ran from, the people she's heard horrible stories about her whole life. And it is there that Jersey is able to heal.
Jersey's tale really got to me. She is let down and abandoned by just about everyone–her stepfather, her real father, her friends–but she finds sanctuary and she finds hope and she finds that she has people to love her, to share her grief. All I can tell you is this: I would recommend this book to anyone. It is amazing.
Interested? You can find TORN AWAY on Goodreads, Amazon and Barnes & Noble. I received a review copy of this book via NetGalley.
About the Author:
Two-time winner of the Erma Bombeck Global Humor Award (2005 & 2006), Jennifer's weekly humor column appeared in The Kansas City Star for over four years, until she gave it up to be a full-time young adult novelist.
Jennifer's debut novel, HATE LIST (Little, Brown Books for Young Readers, 2009) received three starred reviews and was selected as an ALA Best Book for Young Adults, a VOYA "Perfect Ten," and a School Library Journal Best Book of the Year. HATE LIST also won the Michigan Library Association's Thumbs Up! Award, the Louisiana Teen Readers Choice award, the 2012 Oklahoma Sequoyah Book Award, was an honorable mention for the 2011 Arkansas Teen Book Award, is a YALSA 2012 Popular Paperback, received spots on the Texas Library Association's Taysha's high school reading list as well as the Missouri Library Association's Missouri Gateway Awards list, and has been chosen to represent the state of Missouri in the 2012 National Book Festival in Washington, DC. Jennifer's second novel, BITTER END, (Little, Brown Books for Young Readers, 2011) received starred reviews from Publishers Weekly and VOYA and is listed on the YALSA 2012 Best Fiction for Young Adults list and is a 2012 Taysha's high school reading list pick as well.
Jennifer writes and lives in the Kansas City, Missouri area, with her husband and three children. You can connect with Jennifer via her website, Goodreads and twitter.
Thanks for popping in and keep reading my friends!