Hi there! Today I'm sharing a New Adult romance from Sarina Bowen. I absolutely loved THE UNDERSTATEMENT OF THE YEAR, which is book 3 of the The Ivy Years series, so I jumped at the chance to pick up book 1, THE YEAR WE FELL DOWN, when it was on sale. The series follows hockey players on the Harkness College team, so it's totally appropriate for Stanley Cup season… 😉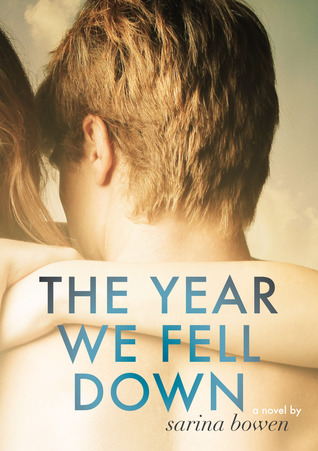 About the book:
The sport she loves is out of reach. The boy she loves has someone else.
What now?
She expected to start Harkness College as a varsity ice hockey player. But a serious accident means that Corey Callahan will start school in a wheelchair instead.
Across the hall, in the other handicapped-accessible dorm room, lives the too-delicious-to-be real Adam Hartley, another would-be hockey star with his leg broken in two places. He's way out of Corey's league.
Also, he's taken.
Nevertheless, an unlikely alliance blooms between Corey and Hartley in the "gimp ghetto" of McHerrin Hall. Over tequila, perilously balanced dining hall trays, and video games, the two cope with disappointments that nobody else understands.
They're just friends, of course, until one night when things fall apart. Or fall together. All Corey knows is that she's falling. Hard.
But will Hartley set aside his trophy girl to love someone as broken as Corey? If he won't, she will need to find the courage to make a life for herself at Harkness — one which does not revolve around the sport she can no longer play, or the brown-eyed boy who's afraid to love her back.
My Review:
Corey Callahan is a freshman like no other on the campus of Harkness College. She's recently disabled due to a hockey injury which has left her with little feeling below the knees. She is in a wheelchair most of the time, but is gaining strength with braces and crutches. She has significant difficulty navigating many areas of her historic campus. Still, she wanted out her home where her parents can't stop hovering, and is overjoyed that her roommate, Dana, is cool. And, it doesn't hurt that the most delicious man on campus, hockey star Adam Hartley, is just across the hall.
Hartley, as everyone calls him, is an all-around decent guy with one giant problem–his leg cast. He busted up his leg falling off a rock-climbing wall–while drunk. He's mentally furious, and physically challenged, but he and Corey make friends quickly–and, despite all Corey's fervent wishing, they will remain friends. Hartley has a super-wealthy, super model-esque, girlfriend, Stacia, who is soon to depart for a study abroad quarter in Europe. No way Hart-throb will toss the girl for a gimp, right?
Okay, I'm just in awe of this book. There are so many great things to say, like, I really loved Corey. She wasn't perfectly positive, but she was absolutely determined to make it in college. She struggled, as I think many wheelchair-bound people do, with the way she was treated. As if she was fragile, or simple-minded, or couldn't make decisions for her own self. She was, in her own way, extremely capable. She planned, and researched, every trip she needed to make. She was shy, at first, but really struck out on her own a lot. Plus, while this is fiction, I know that many colleges struggle with being ADA-compliant. Even if they are, to some degree compliant, there are parts of a campus that can't be accessed by wheelchairs, and yet, Corey broke through those boundaries time and again–she shattered her own emotional boundaries alongside.
Yes, she adores Hartley. Who wouldn't? He's funny and kind and loyal, and his precious Stacia is…not. She's an ice princess, off enjoying all that Europe has to offer, including the men. It baffles Corey how Hartley can tolerate it, especially as stoically as he does. He isn't naive, he's just got different priorities–growing up the poor, unknown, bastard child of a trust-fund brat will do that to you, I suppose. He's a bit starry eyed over Stacia's immense wealth.
Things evolve between Corey and Hartley in the space of a semester. Their comfortable friendship becomes more fraught. This is only complicated by Stacia's return just before term's end.
I'm not gonna lie, this was a thinking book. I had a lot of information about disability–and ability –to absorb, and yet, it was easy. Though Corey complains that she's a whiner, I didn't feel that way about her when reading her POV. Her desire to be seen as a person of value, and a whole person–not just a wheelchair-bond "problem"–was endearing. As Hartley soon learned, Corey, who was honest and real, was so much easier to love than his airbrushed, waxed/dyed, high maintenance Stacia. But not only was it easy to love Corey, it was easy to respect her, to treasure her, to have real and meaningful conversations with her.
The end of this book left me wanting to know more about Corey and Hartley, which is always a great indicator for me. It's the first book in a series, but each book is about a different hockey player at Harkness, so we only get snippets of the other books' characters going forward.
Interested? You can find THE YEAR WE FELL DOWN on Goodreads, AND IT'S CURRENTLY FREE on Amazon, and Barnes & Noble.
About the author:
Sarina Bowen writes steamy, angsty Contemporary Romance and New Adult fiction from the wilds of Vermont. She is the author of The Ivy Years, an award-winning series set amid the hockey team at an elite Connecticut college.
Waiting for more Ivy Years? You can read more about upcoming volumes in the four book series at http://www.sarinabowen.com/theivyyears
Also, the Gravity series.
Sarina enjoys skiing, espresso drinks and the occasional margarita. She lives with her family, eight chickens and more ski gear and hockey equipment than seems necessary.
To be kept abreast of new releases, please feel free to sign up for the mailing list at http://www.sarinabowen.com/contact.
Or visit the her Facebook page, or tweet her @sarinabowen.
Thanks for popping in, and keep reading my friends!