Hi there! Welcome one and all to the Cephalopod Coffeehouse, a cozy gathering of book lovers, meeting to discuss their thoughts regarding the tomes they enjoyed most over the previous month. Pull up a chair, order your cappuccino and join in the fun.
This month I'm sharing THE SCORPION RULES, a YA dystopian story by Erin Bow. Set 400 years in the future, the world is a very different place and peace is kept by means of hostage exchange where the children of world leaders are kept and educated together–and executed if factions go to war. It was a slow build, but a wild ride.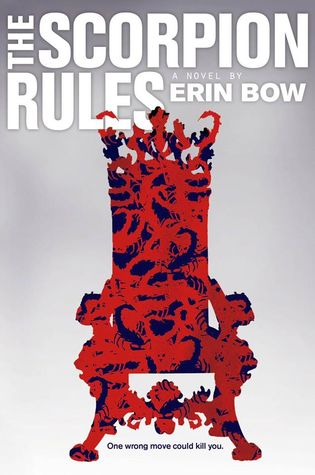 My Review:
4.5 Stars, I think. I'm pretty sure, in fact. There was something that captivated me in this story. There were things that didn't work, too, but mostly it got me. Or, I got it. Or, something.
This is a YA dystopian story of survival, in a way–excepting the fact that we know from the start that the main character, Greta, will die. Yep. Greta Gustafson Stuart Duchess of Halifax and Crown Princess of the Pan Polar Confederacy, next-in-line for the throne, will die.
Here's how:
She is a hostage, sheltered and educated in one of Preceptures for royal hostages. This is Earth, 400 years into the future. Earth ruled by alliances that one hadn't dreamed possible, but that's what happens when the ice caps melt, there's widespread famine, and wars to end all wars have ravaged the globe enough to hand the control of the orbiting weapons systems over to AI in order to save humanity.
Talis, specifically, was the UN AI in charge of conflict abatement. And he stopped the wars.
I saw the plague pits, I saw the starving armies, and eventually I…
Well, it was my job, wasn't it? I saved you.
I started by blowing up cities.

By city number seven–Fresno, because no one's gonna miss that–I had everyone's attention. I told them to stop shooting each other. And they did.
But of course it couldn't be that easy.
The general terror led to a global stand down, and now Talis enforces peace by "making it personal"–essentially keeping a Child from each territorial ruler as a hostage. This Child of Peace will be killed if that ruler goes to war. Simple, brilliant, and effective. Despite marginal resources on a global scale, there have been modest amounts of incursion, and fewer wars.
Greta is a Child of Peace, raised in the 4th Precepture since age 5. She regularly visits home to her mother–like all Children of Peace–so as to reinforce the family bond, but her actual home has been on a self-sustaining farm in what was once Saskatchewan. Now 16 she has grown up around other Children of Peace, her cellmate Xie, who is considered to be descended from a Goddess in her homeland, and Atta whose people consider him a prophet, among others. They work hard raising goats for milk and cheese, fruit and vegetables and grains and honey–all the foodstuffs they require, and they learn about war, and peace and philosophy. Greta is an excellent student, but Greta's time is coming close. She knows because her land has water (Lake Ontario) and the people to the south, the new Cumberland Alliance, cannot survive on the dregs of Lake Erie. When a Child arrives from their current War Secretary, Elian, Greta recognizes that her life is likely numbered in months, or even weeks.
Elian is like no other Child of Peace. He was raised in his home, with his parents. His Grandmother rules the Cumberland Alliance. He knows there will be war, and he knows he's been sent to die, and he will not go quietly.
The Precepture is guarded by electronic monitors that use electric shock to keep the peace. As Elian soon discovers, he will be tortured until he is compliant. Greta and her comrades have seen nothing of resistance in their years there. Being raised from early childhood they learned to comply, to code their speech so that it didn't sound insubordinate or revolutionary, but Elian has no scruples, and his torture breaks something open in Greta. She was resigned to death, but perhaps it doesn't need to be something she accepts.
I was caught in the state of constant readiness, alongside Greta. Most of her comrades are safe from the threat of death, by virtue of having no encroaching enemies, or too much power in their region. Greta and Elian should be enemies, but she cannot hate him. It is not his fault their people are at the brink of war. This is where the usual dynamic goes awry. People will expect Greta to fall for the bad-boy rebel Elian, and she does, but not the usual way.
He did not seem happy about it. "I don't get it. From the day they dragged me here, I was going to die–we were both going to die–and you were okay with that."
"I was wrong."
There are a whole lot of fantastic, unprecedented changes in store for the Children of Peace, not least of which is meeting a hostile enemy and the savior of the human race.
At no point does Greta become a soppy mess of a lovesick girl. She does change and affection comes, but it is unexpected and bittersweet.
"You don't love me."
"Oh, Elian." It was not that simple. Not nearly. "I–I'm sixteen years old. And I've been asleep my whole life."

"You woke me up, Elian Palnik."
I found the almost Stockholm syndrome scenario of Greta's world to be intriguing. She knew that her mother could not/would not save her. She was resigned to sacrifice, and yet, she made choices that enabled her a modicum of freedom, in a way. A death of her choosing. Greta dies, but she also lives on–and not in a martyred memory. She is wise and she is capable–the unelected leader of the Children of Peace in her Precepture. She reaches out for help, and she sways a god. In her cool and calculating mind she finds a middle passage that saves hundreds of thousands, and, in particular, the one she promised to save.
There is a love story here, but it is not between Greta and Elian. He is boy she hardly knows. No, Greta finds love with the people she has leaned on throughout her childhood. That love she never allowed herself to experience, fearing she would lose it, becomes a purpose in her final hours.
If I was going to put my life down–as Wilma had–then I wanted to mourn it. I wanted to regret it, and fiercely. Maybe the grey room would kill me, and maybe not, but one way or another it would transform me, and this life would be done. I wanted to be alive before that happened. I wanted to be alive before I died, and I wanted death to terrify me, not slip in like a long expected guest.
As for the book, there were parts I wanted to move faster, that then became important later. Those deft touches, and full-circling, brought my enjoyment back when it began to falter. There was a sharpness to the narration, a gallows humor, that kept the prose light. I did not weep for Greta. I did admire her, and I expect that her sacrifice will bring change to her world. And that's the best compliment I can give to a protagonist.
Interested? You can find THE SCORPION RULES on Goodreads, Amazon and Barnes & Noble. Also, libraries will be getting this one soon, fo sho.
Thanks for popping in. Please stop by my fellow Coffeehouse reviewers and catch their fave books of the month. And, as always, keep reading my friends.