Hi there! Today I'm sharing my review for a YA thriller (with a hint of romance) recently released by Ryan Graudin. THE WALLED CITY is a fast-paced story of rescue and redemption in the gritty slums of a fictional Chinese town.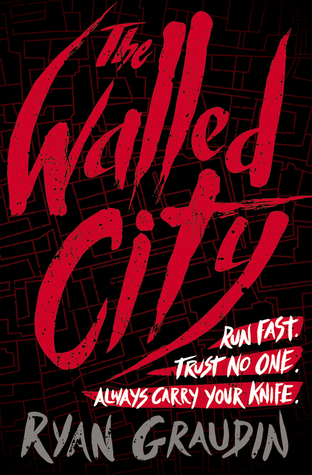 About the book:
730. That's how many days I've been trapped.
18. That's how many days I have left to find a way out.
DAI, trying to escape a haunting past, traffics drugs for the most ruthless kingpin in the Walled City. But in order to find the key to his freedom, he needs help from someone with the power to be invisible….
JIN hides under the radar, afraid the wild street gangs will discover her biggest secret: Jin passes as a boy to stay safe. Still, every chance she gets, she searches for her lost sister….
MEI YEE has been trapped in a brothel for the past two years, dreaming of getting out while watching the girls who try fail one by one. She's about to give up, when one day she sees an unexpected face at her window…..
In this innovative and adrenaline-fueled novel, they all come together in a desperate attempt to escape a lawless labyrinth before the clock runs out.
My Review:
I got sucked into the blurb on this one. I've not read a lot of books with a Chinese cast and setting, and it wasn't clear at first if this was reality or dystopia, but, upon reading I decided that didn't matter so much. It actually is reality-based, but the reality of this world–this lawless slum on the edge of a bustling city–is rather dystopian.
Jin Ling is a teenaged girl posing as a boy in Hak Nam, the ruined fort abutting Seng Ngoi. She has been here, living on the streets, stealing to survive, for two years–ever since her father sold her beautiful elder sister, Mei Yee, into prostitution. Their father was an abusive drunk who saw no use in two daughters on a failing rice farm–but Jin and Mei Yee have a deep love for each other, and a survivor spirit.
Mei Yee, due to her beauty, has captivated a very rich man, Ambassador Osamu, who pays for her to have the best room in Longwai's brothel, and to be kept for his use only. It is the best life Mei could hope for, but hope is not allowed in her life.
Dai is a young man looking for a second chance. Two years ago he was a wealthy man's son, enrolled at the best boarding school, and selling drugs for fun. Then, a drug run went bad, leaving Dai with a smoking gun and three dead bodies. His parents helped him to escape to Hak Nam, where the police are not allowed due to a treaty, and where Dai has lived/survived by keeping his head down. Thing is, the treaty is due to expire in 18 days, and the police want to capture Dai–one of the dead drug runners happened to be the mayor of Seng Ngoi's son. Dai has two choices: 1-flee China and bring further disgrace on his family or 2-get the dirt on Hak Nam's crime boss Longwai.
Dai makes an arrangement with Longwai–running drugs–so he can gain access to Longwai's inner circle and find the ledger which contains evidence for conviction, but he cannot do it alone. He recruits Jin, who accepts because she is a super fast runner, and because Longwai's brothel is the only one to which she hasn't been able to gain entrance to search for Mei Yee. Meanwhile, Dai strikes up a friendship with Mei Yee, in the interest of gaining inside information on Longwai and his men.
During he 18 day countdown, these three survive some pretty lethal encounters. Mei Yee is abused and nearly turned into a heroin addict. Jin is hunted by a street gang and stabbed. Dai puts his freedom in jeopardy leaving Hak Nam to get the help he needs to complete his impossible task.
It took me a bit of time to get used to the narrative, which cuts between three points of view, and the content–the experiences of each narrator are horrifying, all the more so for their realistic setting. It is easy to sympathize with Jin and Mei Yee, but Dai required more warming-up-to. I really got engaged in the story maybe ten chapters in, mostly because the immediate violence and callous environment isn't appealing, to me as a reader. There is a touch of romance–Mei Yee and Dai have an unrequited attraction–which becomes a hindrance to Mei's service to her wealthy patron, but the one thing uniting all these desperate characters is hope. Hope that life will not always be this horrible, lawless, parentless, loveless experience. Hope that, one day, a girl could just be a girl, not a possession to be bought, sold or discarded. Hope that a child could escape the slums and frolic in the sea or gaze at the unpolluted starlit sky. Hope that a son could redeem his past, and build a better future.
I ended up staying up way past my bedtime to finish this one, and wasn't disappointed.
Interested? You can find THE WALLED CITY on Goodreads, Amazon, and Barnes & Noble. I received a review copy via NetGalley.
About the Author:
Ryan Graudin grew up in Charleston and graduated from the College of Charleston with a degree in Creative Writing in 2009. She is the author of All That Glows and The Walled City. She resides near Charleston with her husband and wolf-dog. You can find her online on her website and twitter.

Thanks for popping in, and keep reading my friends!