Hi there! Challenge month is drawing to a close, and I'm excited to share the last of the weekly challenges: Judge a Book by its Cover. I chose ONE TRICK PONY, a recently released M/M cowboy romance from Eli Easton.
About the book:Forgiving yourself is the first step toward finding true love.
Henry Atkins is determined to turn around his no-good, sorry life and prove to the residents of Clyde's Corner that he's not the town bad boy anymore. If going to church every Sunday with the Ladies Society is what it takes to polish his reputation, he's all in. But when every secret fantasy in his head walks into the stables at Muddy River Ranch, the straight and narrow path he's on takes a wild detour. It never felt so good to be so bad.
Micah has been one of the biggest porn stars in the world for five years, but he's burned out. His body won't cooperate to film even one more scene. A month's vacation with his old friend Ben in Montana is just what his jaded heart needs. He wants rest, fresh air, and to not be recognized by a living soul. He sure as hell isn't looking for a fling, and he wants nothing to do with Henry, the fanboy who works at Ben's ranch.
The two men are both seeking a fresh start, an escape from the demons of their past. Fly fishing lessons on the river uncover the surprising number of things they have in common and forms a heartfelt bond that might save their weary souls. Only Micah's past isn't through with him yet.
This was such a sweet and fun story, with Henry rebuilding his life and reputation, while finally experiencing love from another person and with another person. And Micah, is savvy and adorable as a young porn star rethinking his life plan.
This is the FINAL WEEK to enter in the Joyfully Jay Challenge Month sweepstakes. Please take a field trip over to my post on Joyfully Jay and make a comment in order to be entered. This week there is special prize to win one of five $20 JMS store gift cards from JMS Books, commenters will also be entered to win our amazing Challenge Month Grand Prize sponsored by NineStar Press: a Kindle Paperwhite loaded with 50 NineStar Press books. Again you must comment on the Joyfully Jay post before Friday to get entered.
Interested? You can find ONE TRICK PONY on Goodreads or Amazon.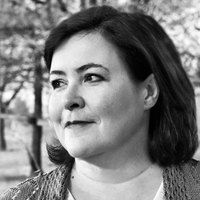 About the Author:
Having been, at various times and under different names, a minister's daughter, a computer programmer, a game designer, the author of paranormal mysteries, a fan fiction writer, and organic farmer, Eli has been a m/m romance author since 2013. She has over 30 books published.
Eli has loved romance since her teens and she particular admires writers who can combine literary merit, genuine humor, melting hotness, and eye-dabbing sweetness into one story. She promises to strive to achieve most of that most of the time. She currently lives on a farm in Pennsylvania with her husband, bulldogs, cows, a cat, and lots of groundhogs.
In romance, Eli is best known for her Christmas stories because she's a total Christmas sap. These include "Blame it on the Mistletoe", "Unwrapping Hank" and "Merry Christmas, Mr. Miggles". Her "Howl at the Moon" series of paranormal romances featuring the town of Mad Creek and its dog shifters has been popular with readers. And her series of Amish-themed romances, Men of Lancaster County, has won genre awards.
Catch up with Eli on her website, Facebook, and twitter.