Hi there! Today I'm sharing a review for a new contemporary YA romance from Olivia Rivers. TONE DEAF is a story about a rocker and a deaf girl finding solace and safety together.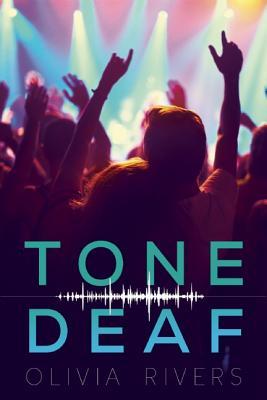 About the book:
Ali Collins was a child prodigy destined to become one of the greatest musicians of the twenty-first century—until she was diagnosed with a life-changing brain tumor. Now, at seventeen, Ali lives in a soundless world where she gets by with American Sign Language and lip-reading. She's a constant disappointment to her father, a retired cop fighting his own demons, and the bruises are getting harder to hide.
When Ali accidentally wins a backstage tour with the chart-topping band Tone Deaf, she's swept back into the world of music. Jace Beckett, the nineteen-year-old lead singer of the band, has a reputation. He's a jerk and a player, and Ali wants nothing to do with him. But there's more to Jace than the tabloids let on. When Jace notices Ali's bruises and offers to help her escape to New York, Ali can't turn down the chance at freedom and a fresh start. Soon she's traveling cross-country, hidden away in Jace's RV as the band finishes their nationwide tour. With the help of Jace, Ali sets out to reboot her life and rediscover the music she once loved.
My Review:
This is an engaging, innocent, YA rock romance.
Ali is a 17 y/o girl whose charmed life has taken disastrous turns. She was a child prodigy, playing concert halls in NYC before she even turned double digits, but a surgical procedure rendered her totally deaf. At the same time her mother was killed and she was relocated to LA in her estranged father's care. These days, her father is a retired decorated police chief who is an alcoholic and an abuser.
While at a concert with her best friend, Ali is selected to win a behind-the-scenes tour with the lead singer of the pop/punk boy band, Jace. Jace turns out to be just as much of a jerk as the press has led Ali to believe. He's unconscionably rude, and Ali leaves without taking the tour. Pressed to make amends, Jace offers Ali a large sum of money for her to return to the arena and take the tour–to stave off a PR nightmare. Ali only agrees because the money could provide her with a fresh start, and send her far from her abusive and controlling father.
This time, Jace notices that Ali knows a lot about music, and also, that she's bruised in ways with which he can totally identify. He was an abused child, too. He's immediately engaged in her plight, offering to whisk her away on his tour–and drop her in NYC as that's the last stop.
Along the way, Ali and Jace become close–not in a sexy way. Jace knows that Ali can't be found, as she's explained her father's resources. Jace convinces his band that he needs to help her–and they need to trust him. This trust gets strained as Ali's disappearance becomes national news, and the risk of her discovery hiding on Jace's RV is high. The days turn to weeks, and Ali makes herself useful, managing Jace's social media and helping him with some of his songs in-progress.
What I loved about the book was the way Ali was portrayed. She never wallowed in her misfortune. Her desperation to get away from her father and build a whole new life was palpable. I liked the way her deafness was described and explored, and also her communication between her friends, Jace, and her interactions in the world were all well-sketched. I also loved the diversity of the band members, who are childhood friends and form their own family–of sorts. Two of the guys are openly gay, and in a loving relationship together, which was a positive aspect. Jace is a jerk, a broken person due to years of abuse. His experience helping Ali, and getting to know her as a person, opens his eyes, heart and mind, to let some of his long-standing anger bleed out.
I had a few problems with some structural aspects of the book. Part of this was "reality" problems. I had a hard time believing that Ali's surgical issue would have rendered her completely deaf in both ears. It's a medical stretch and virtually impossible, as described. That's my own two cents, as a physiologist who taught medical students. I had to simply accept that, and I couldn't, not once I got the whole "story," but most lay readers won't know this is an issue. I also have a little trouble with the pacing of this rock tour. It seems to travel at a snail's pace, and I couldn't understand the logistics. I'm a big fan of music. Concert tours are streamlined and efficient travelers. They pack up each night when a show ends and hit the road…immediately. They have shows lined up every few days, especially in the summer season, and the talent doesn't drive the RV for a band as the one described in the book. Those are my niggles, and are based in reality. Most readers likely won't have such a critical eye.
The story, as it unfolds, is interesting. The budding romance is tender, with only a few kisses and chaste hugs exchanged. There's a lot of healing from heartache, for both Ali and Jace. I had a lot of tension awaiting Ali's discovery, and the payoff was rewarding. When the climax comes, it seems a bit late in the game, but I liked how it turned out.
Interested? You can find TONE DEAF on Goodreads, Amazon and Barnes & Noble.
About the Author:
Olivia Rivers is a hybrid author of Young Adult fiction. Her works include the independently published "Tortured Elements" and "Duplicity" series, along with the traditionally published novel "Tone Deaf" (Sky Horse 2016.) As a certified geek, she enjoys experimenting with new publishing technologies, and her online serials have received over 1,000,000 hits on Wattpad.com. When Olivia isn't working as a writer, she's a typical teen attending college in Northern California. Olivia is represented by Laurie McLean of Fuse Literary, and nothing thrills her more than hearing from readers.
You can reach Olivia online on her website, Facebook and twitter.
Thanks for popping in, and keep reading my friends!