Hi there! Welcome one and all to the Cephalopod Coffeehouse, a cozy gathering of book lovers, meeting to discuss their thoughts regarding the tomes they enjoyed most over the previous month. Pull up a chair, order your cappuccino and join in the fun.
As part of the Coffeehouse I'm obligated to share the best book I read this month. And this time it's a YA adventure/romance newly released from Sarah Tomp.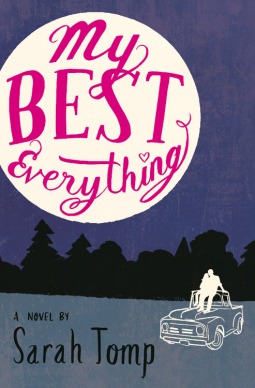 About the book:
"You say it was all meant to be. You and me. The way we met. Our secrets in the woods. Even the way it all exploded. It was simply a matter of fate.
Maybe if you were here to tell me again, to explain it one more time, then maybe I wouldn't feel so uncertain. But I'm going back to the beginning on my own. To see what happened and why."
Luisa "Lulu" Mendez has just finished her final year of high school in a small Virginia town, determined to move on and leave her job at the local junkyard behind. So when her father loses her college tuition money, Lulu needs a new ticket out.
Desperate for funds, she cooks up the (definitely illegal) plan to make and sell moonshine with her friends, Roni and Bucky. Quickly realizing they're out of their depth, Lulu turns to Mason: a local boy who's always seemed like a dead end. As Mason guides Lulu through the secret world of moonshine, it looks like her plan might actually work. But can she leave town before she loses everything – including her heart?
The summer walks the line between toxic and intoxicating. My Best Everything is Lulu's letter to Mason – though is it an apology, a good-bye, or a love letter?
My Review:
This is an excellent coming-of-age YA story that is light on the romance and heavy on the message.
At first I was struck by the narration. The MC, Lulu Mendez, addresses a "you" in her constant speech. At first I wasn't sure if I'd fallen into that elusive "2nd Person" narrative, but I quickly recognized the book is written as if it's a letter, or communication, to another character in the book, Mason Malone. This immediately upped the tension for me, because it was clear that here was a separation between Lulu and Mason, but I didn't know if that separation was distance or death. I will say that this question is raised on the first page and answered on the last page, and it boiled in my brain for all the pages between.
Lulu is a smart girl, living in Dale, a tiny town in the rural mountainous area of southwest Virginia. Dale is a place of hillbillies, hicks and moonshiners and Lulu cannot wait to escape it. It has long been her plan, and she has just the summer to endure before she moves to sunny San Diego for college. Lulu has always been the straight-laced good girl, avoiding drugs, drinking and boys, but she intends to cut loose a bit with her BFF, Roni, and Bucky–Roni's boyfriend and Lulu's good friend, too. Lulu has far bigger dreams than Roni (who wants to get married to Bucky) and Bucky (who wants to stay in Dale despite his college scholarship, he's not ready for marriage like Roni however). Trouble is, college costs money, and Lulu's dad has just dropped the bomb that his business is struggling and he can't afford her tuition. She is outraged and sullen and desperate, as a result.
Lulu and Roni work at a local junkyard, and when a confiscated still turns up, it sparks an idea that is just crazy enough to work. Moonshining is a lucrative, yet dangerous and illegal, activity. Lulu, Roni and Bucky could all use money, but they can't work a still–they have no experience of these things. Mason Malone, however, does.
Mason is the youngest of the Malone boys–and his family is known for its moonshine. Thing is, at 21, Mason is out of the family business. He's a recovering alcoholic and can't even bear to be around alcohol, let alone make it. Lulu is persuasive, and not in a bad way. She proposes that Mason help them set everything up, and that she, Roni and Bucky will manage the rest. Thing is, Mason's been moonshining his whole life but for the past two years of his sobriety. His family, a collection of serious and functional alcoholics, no longer trust him, and pretty much have shunned him. He is rebuilding his lif, taking odd jobs and attending AA meetings. He makes furniture and does carpentry on the side. He does not associate with drunks–including his own family–ever.
He agrees to assist, knowing that it will be more than he can bear, also knowing he will do anything to help Lulu escape Dale, VA. As one can imagine, three teens and Mason making moonshine in the backwoods of VA, this goes more than haywire. Moonshine is made, sold, stolen, exploded and destroyed. Money is made, and plans resurrected and blown to kingdom come. The relationships that were so central at the beginning of the story become strained and reformed. Lulu and Mason have a precarious romance that can't even cross the border to West Virginia on account of Lulu being 17 and Mason knowing he can't take a minor over state lines. Mason's very much aware of the legalities of life, and the moonshine business. With all his family connections, Mason is able set up buyers for their product, but this is a very slippery business–it brings out the ire of his scorned family, for one.
The language in this book is outstanding. I truly felt as if I was coasting down the Bottoms on a raft, and hiking through a midge-filled forest to stir the mash in Aunt Jezebel, the still. The characters leap off the page, from Mason's quiet grace, to Lulu's agoraphobic mother, to sassy Roni who finds a path she never fathomed in her high school imaginings. Lulu is a faithful narrator, and her insight is slightly self-deprecating. She acknowledges her faults and tries to atone for them, with explosive results.
And, as I mentioned at the beginning, the final page reveals the whereabouts of Mason, recipient of Lulu's love and apologies and musings. It all ends on a high note, though this not a typical Happily Ever After. It is a mostly innocent book (expect an off the page issue with contraception) with nothing more than making out between our characters for the readers to see. There are lots of moral questions posed, and answered, and a whole lot of growing up being done. A solid teen read.
Interested? You can find MY BEST EVERYTHING on Goodreads, Amazon, and Barnes & Noble.
Thanks for popping in, and don't hesitate to check out my fellow bloggers on the Coffeehouse. I find lots of new reads this way!