Hi there! Well, this is my last review post of 2015–tomorrow I'll feature a "Best Of" recap–and I figured why not go out with a bang. I had my curiosity piqued regarding a new M/M taboo romance QUILLON'S COVERT from the writing team of Joseph Lance Tonlet and Louis Stevens so I went for it.
You'll remember that I absolutely loved Tonlet's GRIF'S TOY, and I'm no stranger to taboo romance. I read VC Andrews' FLOWERS IN THE ATTIC when I was in seventh grade. So, at age 13, my first experience reading sex was the rape of a sister by her beloved brother. And I followed that series with MY SWEET AUDRINA which featured the gang rape of a pre-teen girl. So, yeah, my HEAs got off to a VERY rocky start!
That said, QUILLON'S COVERT is an erotic taboo romance that has graphic depictions of consensual incest between a father and son. It includes, as an off-shoot, adultery, as both characters are married at points in the story. If any of these are a trigger for you, avoid the book.
The authors have hosted a series of blog posts in support of the book, which features some candid thoughts and snippets regarding the book's content and their philosophy. You can access those here. I was not part of that tour, but I read and enjoyed the book enough to recommend it. And there's a huge giveaway that includes a Kindle, which you can enter down below.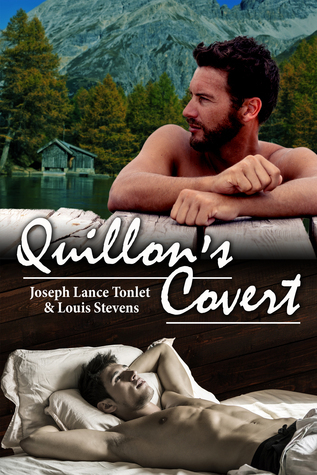 About the book:
Martin is a guy's guy, one who enjoys the simple things in life: baseball games with his son, family days, barbecues, and date nights with his lovely wife.
Once a year for two weeks, Martin takes his son, Marty, to Quillon's Covert, a rustic family cabin secluded in the beautiful California mountains. Since before those long days of learning to play ball, Marty has loved his dad, but as Marty matures, Martin starts to see something else settle in his son's uncertain gaze. What's there lingers a little more than it should, and it seems far more appraising than it once was.
As Marty shows every sign of taking the lead, Martin is faced with the tough choices most parents never see: lose his son by being a father, or try to balance what's best for their relationship by being something… more.
But with another trip to Quillon's Covert on the horizon, has the point of no return already begun?
Note: This book contains incest. GAY, EROTICA, ROMANCE, TABOO, INCEST, INFIDELITY
My Review:
4.5 Stars for this one. I had to dip my toe in this pond–even just to experience it from a simply puerile viewpoint. So many books in the hetero world deal with incest, of a sort–there's a huge rise in step-brother/step-father romance. And, after my youthful reads from VC Andrews I knew I was in the target audience for taboo incestuous romance.
This is as soft and romantic a love affair as I could envision. I was captivated, despite my initial fears.
Martin Quillon is a doting father who has feared the loss of his son, Marty, in very real terms when he choked on a candy cane at age 6. Marty has struggled with bullying and stuttering, and Martin's been his rock, a constant source of unfailing love. This is not to say Marty does not experience this with his mother; he does. But the story is only told in vignettes of the two-week excursions to their father-son retreats they take to their isolated mountain cabin every year.
The book begins when Marty is fourteen, a few years into their visits. While on the Quillon's Covert "compound"–a one room cabin near a lake–they shed their clothes and live one with nature, fishing and barbequing and having a boys time of it. By the time Marty is fourteen he's beginning to recognize that he's enamored of his father, but this is still chrystalizing. His father is big and broad and strong, and all that Marty longs to be. The first several vignettes are really there to establish their deep and loving bond as father and son.
As Marty matures he recognizes that he's not just in awe of his father, he's attracted to him. He's 16 and already confessed his homosexuality, and been totally supported through that. Due to some injury Martin is obliged to not only punish Marty (it makes sense in the story) but to facilitate Marty's hygiene, and this is the first time that Martin begins to suspect Marty has more than a filial affection for him. Because we have been privy to both characters' POV, we know that Marty has long desired his father, in a pure love sense.
I will not be coy about this: there is a physical sexual relationship between Marty and his father. This is fully desired and incited by Marty–and only becomes fully physical once Marty is 18 y/o. The result is a spectacularly tender relationship that exists only two weeks a year. It's expressly a loving experience, one the men anticipate for 50 weeks each year as the story winds on. This continues for…years. As a kid I watched SAME TIME NEXT YEAR (which was wholly inappropriate both of me, and for me) and this book has the same sense of two people finding a respite together in a socially-unacceptable relationship. During this time Marty matures, grows into his manhood, and still never wants his precious alone time with Martin to change. The sexual encounters become more defined and explicit as the story continues. They are determinedly honest.
"No," Marty began at length, "I don't feel guilty." He looked up and met Martin's interested gaze. "What I mean is, I look at the cabin, at our time here, as a bubble–and I've thought about it in those terms for years."

"A bubble?"

Marty nodded against Martin's knee. "Our 'real life' doesn't touch out time here, and our time here doesn't touch our 'real life'. I said before I've accepted that we'll never live as a couple, and I meant that. It's taken me a long time to get to that point, but it's true, Dad."…"What we do here is between us and no one else."
I think the biggest problem I had with this one–setting the incest angle completely aside–was this infidelity issue. As mentioned, I read a metric ton of VC Andrews as a kid, so I'm kinda inured to incest. Also, this book has such tenderness, such love, I was less afraid of the damage that Marty might have–especially as he was always the aggressor. No, I think I had this niggle in the back of my mind regarding Martin's wife, and later, Marty's husband. I was not satisfied by the epilogue which brought Marty's son to the lake house–while the shenanigans continued. As a parent, I'm well-versed in getting sexytimes in under the oblivious eye of a toddler, and yet this somehow upset me. It's probably some hang-up of mine, but it still got to me. I think I would have liked the end better if Little M had stayed home with his other daddy.
That said, this is a well-written taboo story that explored a consensual father-son sexual relationship that was so carefully written as to be a romance.
Interested? You can find QUILLON'S COVERT on Goodreads, Payhip, AllRomance, Smashwords, and Paperback. It is not available at many ebook sellers due to its taboo content.
****GIVEAWAY****
Click on this Rafflecopter link to enter a giveaway for MANY prizes, including a Kindle Fire 7, and several ebooks, audiobooks and signed paperbacks.
Good Luck and keep reading my friends!
About the Authors:
Joseph Lance Tonlet is a born and raised Southern Californian—with a twenty-year stint of living in the Midwest. He loves the laid-back lifestyle of San Diego and considers himself lucky to live where people dream of vacationing.
A lifelong reader of m/m fiction, he began his writing career one night sitting at his MacBook and has never looked back. He writes to bring the characters he dreams about to life.
You can find Joseph online on his website, Facebook, Twitter (18+), Ello, Google+, tsū, Pinterest, Tumblr (18+ only!), Goodreads, and YouTube.
Louis Stevens is a gay romance author born and raised in South Africa. He was a shy outcast who had few friends in school; generally feeling excluded and on the fringe of society. However, when he discovered gay romance and erotica in 2007, at the age of seventeen, his mind and world opened up.
He wrote his first story, A Better Life, longhand in a 197 page spiral notebook, on his bed every night with a pillow curled under his chin. Although the book wouldn't be published until 2011, with the now defunct Silver Publishing, he found the experience entirely liberating. He's considered himself a writer ever since.
Catch Louis online on Amazon, Goodreads, Facebook, his website, his blog, and on Youtube.