Hi there! Today I want to share a book that I think could make a difference for gay youth. There is no doubt that LGBTQ persons have trouble sharing their "secret", whether they struggle because they are afraid to lose their family, their friends, or their lives. There are many who believe sexuality is a lifestyle "choice" but I am not among them. I hope that continued gains will be made in both tolerance and legal status for these individuals–and this MY personal preference, mostly because I am a woman who craves equality for ALL, not some.
As a girl, I was empowered by reading Nancy Drew mystery stories because those books showed a girl with brains and mettle. One who did the right thing, even when it meant danger for herself and little-to-no reward, because it was the right thing to do. They provided the positive message I needed to bloom as a bookish young gal with an overdeveloped sense of fairness: That I was OKAY, and to Follow My Own Path–even when those around me thought a girl was meant to be married and pregnant instead of going to college and becoming a professional.
I like "Coming Out" stories for this same reason. They are so fraught with emotional twists. I wish to find those that have some heft to them and provide the same sense of "YOU ARE OKAY" comfort to share with kids that are in need.
TRISTANT AND ELIJAH, by Jennifer Lavoie, provides both a "mystery" and a "coming out" tale, so it thrilled me! It is my fave YA coming out tale of 2014, so far.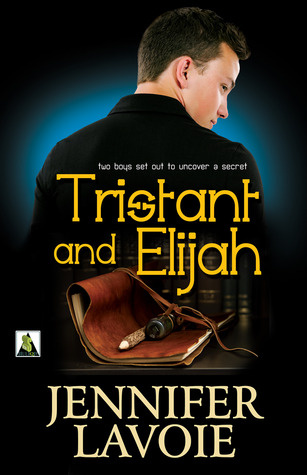 About the book:
Tristant Whitfield has had a secret crush on straight Elijah Cambridge since the start of high school. He's okay keeping his distance, but when Elijah starts visiting him at work and bringing his favorite coffee, Tristant begins to wonder if there's something more there.
Then Elijah uncovers a scandalous old letter from Tristant's great uncle tucked away in a book, and the two boys begin a journey through journals and letters to discover the real Uncle Glenn and the secrets he hid from his family. And Tristant realizes that Elijah has been hiding something as well.
A secret that just might change everything.
My Review:
Tristant and Elijah are two high school seniors in a small New England town. Tristant is out–has been since junior high, but has never had a boyfriend. He's a self-described book-nerd with few close friends. Elijah is a good-looking popular boy who Tristant has fantasized about since freshman year when they were partners on a school project. They are acquaintances who strike up a stronger friendship over winter break.
One day while Tristant is working, Elijah pops into the antique shop–seemingly to chat. In fact, that's all they do. Elijah brings him a coffee; it's all very exciting to Tristant. This happens again the next day, only the two of them also pore over an old book that had belonged to Tristant's great-great uncle Glenn. A scandalous letter from a Miss Rebecca falls out of the book–and Tristant is curious about the nature of his ancestor's relationship with the woman.
Tristant digs deeper into GG-Uncle Glenn's effects and finds a diary recounting Glenn's time at college and his friendship, of sorts, with a man named Jesse. Tristant and Elijah read the diary to uncover the mystery of Miss Rebecca and instead learn that Glenn had a whole lot of secrets–secrets that Tristant and Elijah can understand and respect. Especially as Elijah shares the same secret.
I'm not going to say more–it's easy to see where the book is going at this point–and I truly loved the supportive role that Tristant played for Elijah in his journey. Elijah's anguish, and Tristant's empathy and kindness are palpable. These two are really tender boys–and I'm glad that they found each other. The book is almost wholly innocent. There are a few kissing scenes that go no further.
Interested? You can find TRISTANT AND ELIJAH on Goodreads, Amazon and Barnes & Noble. I received a review copy via NetGalley.
About the Author:
Jennifer Lavoie lives in Connecticut in the same city she grew up in. While growing up, she always wanted to be a writer or a teacher and briefly debated a career in marine biology. The only problem with that was she's deathly afraid of deep water. Starting during a holiday season as temporary help, she worked in a bookstore for six years and made it all the way up to assistant manager before she left to take a job teaching. Jennifer has her bachelor's degree in secondary English education and found a job in her town teaching middle school students. Along with another teacher and a handful of students, Jennifer started the first Gay-Straight Alliance at the school. She is also active in other student clubs and enjoys pairing students with books that make them love to read.
You can find her on her website, Goodreads, and twitter.
Thanks for popping in and keep reading my friends!