Hi all! Well, I'm about turned inside out by a new sexy serial by best-selling author JA Huss. I got the inside scoop on the Social Media series because I won some swag on a Facebook party, and I've enjoyed both episodes released so far. This is a super-sexy novella series releasing 6 episodes at two week intervals.
Uh, I've used the word "sexy" twice in the intro paragraph, so that's my subtle hint that Social Media is NOT APPROPRIATE FOR THE KIDDOS!!! The excerpts below are, uh, whoa…blue? And the images? O_O

A quick word on Why I Like Serials:  They are short and sweet. I got four kids, a full-time job, and I read, write and blog. That leaves me very little time to sleep–thank goodness I'm an an insomniac…
Anywho, a serial release allows me to read little bites of a story–a complete arc with a problem resolved and a new one burgeoning on the horizon–in the time it takes for me to "watch" my kids' wrestling practice or wait for my son's cross-country heat to get called to the line.
About FOLLOW (Social Media Book 1):
#Women.
I fuck them. I use them. I pay them off. I find another. My demands are never denied. My contracts are always signed. They submit to me. Willingly. Completely. Temporarily. This is how it's always been.
Until I saw that filthy tweet.
Grace @FilthyBlueBird
@VaughnAsher My bare pussy. Your tongue. #ThingsIThinkAboutToGetOff
"FilthyBlueBird" thinks she can tease me with hashtags and then hide behind a Twitter handle? She thinks I wouldn't be more than happy to #RockHerFilthyWorld? She's wrong.
Her online fantasy is about to collide with her public reality, and it's about to happen… now.
My Review:
Okay, so I got this book b/c I signed up for the author's email updates, and thought, "Huh! $.99 for a novella…not bad. I like the whole 'tweeting' plot idea. I'll give it a whirl." I'm glad I did.
The book moves quickly. Grace and her BFF Bebe are on a Caribbean vacation, as "honeymooners", while at the same time the entire resort is booked out to the owner's family–and that happens to be the family of Hollywood Royalty:  Vaughn Asher. Grace is a bit of a mystery–how did her parents die?–and she's clearly not Bebe's wife, but she is young, single and attractive. Vaughn wants to engage Grace as a submissive, and gets a whole lot more than he had bargained for–Grace's sassy mouth is all about letting Mr. Asher have it.
It is a fun twist on the Dom/sub genre with some really sexy moments, and some appropriately squicky moments. (Really, Vaughn? At the dinner table? Is Mr. Grey YOUR BFF?). I admired Grace's backbone, throughout. Vaughn is written to be a Dickhead Supreme, but in the end I had to shake my head and chuckle. He's growing on me…
Interested? You can pick up FOLLOW at the usual places:  Goodreads, Amazon, Barnes & Noble.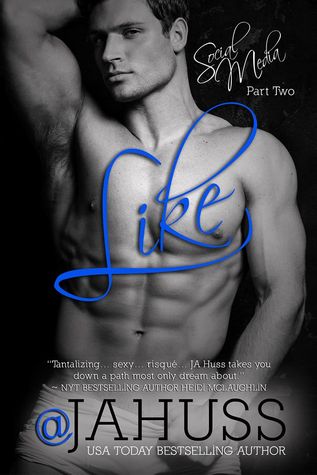 About LIKE (Social Media Book 2):
#WhatADick
Vaughn Asher. I've stalked him relentlessly. I shaped and formed my lust into the perfect dirty hashtag…day after day… weekend after weekend. He was my prince. My fairy tale. My fantasy.
I gave him the best years of my online life and what did he do for me? Ruined my social media experience one tweet at a time. That's what.
MovieStar @VaughnAsher
@FilthyBlueBird #Fantastic #BackToNatureFucking
#MissingSomething #You
And now #TheDickWhoIsVaughnAsher thinks he can weasel his way back into this filthy blue bird's Twitter account? He's wrong.
His public fantasy is about to collide… ah, fuck it. He's hot as hell, bitches. I need more than a free sample. This time I want it all and I'll do whatever it takes to get it.
My Review:
LIKE is the second book in the Social Media series, and it's shaping up to be nuclear hot. For a novella it practically drips sex from it's pages.
Vaughn is a man on a mission–to play with Grace in all the filthy ways he enjoys. Grace is a headstrong woman who is used to being on her own. Her parents died years ago and she's made her way independently–which makes it difficult for her to submit to Mr. Asher's sexual designs.
I wasn't sure I would like Vaughn much, he's domineering and prickly, but this episode brought more of his personal life into the story, and I can see how desperately he strives to control all aspects of his very public life. He's got some good points, and his lack of scruples where Grace is concerned is a bit endearing.
Having been a public 'property' so long, it's no surprise that Vaughn likes public sex, and he's keen to make Grace's exhibitionist and voyeuristic fantasies a reality–with explosively satisfying results. I liked how Grace held her own, regarding the contract–insisting on her own autonomy outside of the bedroom.
It's clear that Vaughn is getting in far deeper than he bargained for–and an affinity for Grace is growing, which I LIKE very much. Looking forward to the next episode!
Interested? You can find LIKE on Goodreads, Amazon and Barnes & Noble.
On the series as a whole, I really am enjoying the social media aspect of these stories. Grace and Vaughn have some witty twexting/sexting banter, online and off. Their chemistry is fierce, and yet, they aren't mindless sex drones. Grace definitely puts Vaughn into his proper place, more than once. He's trying to take care of her, the only way he can, but he keeps stepping on his own foot in the process–all his usual tricks–lavish trips, money, gifts, are just off-putting to our independent gal, Grace. All she wants is a normal life, and (maybe) Vaughn can be there with her.
The fun thing about this serial is early readers–those who preorder–can get each novella for $.99. After they release, the price goes up to $2.99. I already pre-ordered BLOCK, and cannot wait to see how filthy Vaughn will get before Grace tells him to #HitTheRoad!
Here's the release schedule:
8-27 – FOLLOW
9-10 – LIKE
9-24 – BLOCK
10-8 – STATUS
10-22 – PROFILE
11-5 – HOME
About the author:
JA Huss is the author of the Amazon bestselling Rook and Ronin series, the epic science fiction I Am Just Junco series, and hundreds of kid-friendly science books in subjects such as biology, physics, anatomy and physiology, astronomy, and forensics. She has an undergraduate degree in equine science and a master's degree in forensic toxicology. She has never taken a creative writing class and she hopes she never will.
You can connect with JA (Julie) on Goodreads, Facebook, twitter, her website, her blog or via her newsletter.
Thanks for popping in, and keep reading my friends!