Hi there! I'm so excited to share an excerpt, review and giveaway in support of a brand new contemporary romance from Jay Crownover. CHARGED is the second book in her new Saints of Denver series. You know I really enjoyed BUILT, so I had to keep reading this series!
Catch the excerpt and be sure to enter the $25 GC and signed book giveaway below!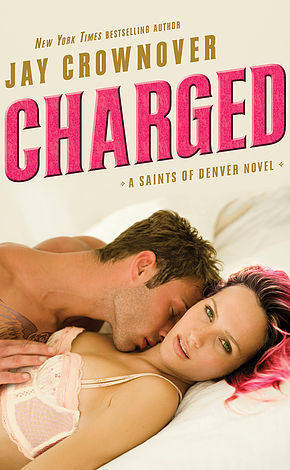 About the book:
From the New York Times bestselling author of the Marked Men books comes the second installment in the Saints of Denver series featuring a bad girl and a by-the-book attorney who could be her salvation…or her ruin.
Avett Walker and Quaid Jackson's worlds have no reason to collide. Ever. Quaid is a high powered criminal attorney as slick as he is handsome. Avett is a pink-haired troublemaker with a bad attitude and a history of picking the wrong men.
When Avett lands in a sea of hot water because of one terrible mistake, the only person who can get her out of it is the insanely sexy lawyer. The last thing on earth she wants to do is rely on the no-nonsense attorney who thinks of her as nothing more than a nuisance. He literally has her fate in his hands. Yet there is something about him that makes her want to convince him to loosen his tie and have a little fun…with her.
Quaid never takes on clients like the impulsive young woman with a Technicolor dye job. She could stand to learn a hard lesson or two, but something about her guileless hazel eyes intrigues him. Still, he's determined to keep their relationship strictly business. But doing so is becoming more impossible with each day he spends with her.
As they work side-by-side, they'll have to figure out a way to get along and keep their hands off each other—because the chemistry between them is beyond charged.
How about a little taste?
Quaid

              She let her arms fall and scooted forward on the chair. She leaned forward and looked at me intently. Her eyes were mesmerizing and I found myself distracted by all the different colors trapped there. I had to ask her to repeat herself when I realized she said something and was waiting for a response from me. I needed to get my head in the game where this girl was concerned…this girl…that was the part I seemed to keep forgetting.

              "What did you say?" My voice dipped lower than it normally was and I shifted in my seat as other parts of me started to notice all the interesting and attractive things about Avett Walker as well.

              "I said, I Googled you." She swept some of her hair back from where it had fallen over her shoulder, and I literally had to force myself to keep my gaze locked on her face as the motion pushed her chest up higher and tighter against the plain, black T-shirt she had on.

              "Oh, yeah? How did that work out for you?" I knew what she would find: my service record, my wedding announcement, my work history from the firm, various tidbits on my most high profile cases, and various articles chronicling my divorce. Most divorces weren't newsworthy, but when one of the people involved came from money and the other was as high profile as I was, it made for good filer on a slow news day. I was curious to see what her interpretation of the snapshot of my life that existed on the internet was.

              She got up from the chair and started to pace back and forth in front of my desk as she talked. "It worked out well enough, I guess. I saw that you were enlisted when you were younger, which explains why my dad immediately liked you." She looked at me over her shoulder and a tiny grin tugged at her mouth. "He doesn't usually like anyone instantly. It takes him a while to warm up."

              I listened with half an ear as I watched her brightly colored hair swish around her shoulders. She didn't come across as the girly or overly feminine type, so I wondered why she had gone with such a delicate and pretty pink when coloring her hair.

              "I learned that you're a Colorado native, that you grew up in the mountains, that your birthday is right around Christmas, which means you're almost thirty-two, so you've accomplished a lot in your career in a short amount of time. I also learned that you own a lot of suits."

              I snorted out a surprised laugh at that last part, which made her stop pacing. She took a step closer to my desk and put her hands on the opposite edge, leaning forward. The new position made her T-shirt gape at the collar, and even though I refused to look down, I could see the hint of a leopard-print bra peeking out. That hint of something forbidden made my mouth go dry and had my pulse kicking. It was a powerful reaction to very little provocation, and I made myself beat it back, forcibly.
My Review:
While this is the second book in a series, it can be enjoyed on its own. Avett Walker is a 22 year old mess. She's been arrested as an accessory to rob her father's former bar, even though she didn't do it. Nope, her good-for-nothing junkie boyfriend thought up that scheme, and he hit Avett when she wouldn't help.
Still, he's claiming it was all her idea and Avett's in jail awaiting arraignment when a clearly high-priced (if his suit means anything) lawyer arrives. Quaid Jackson doesn't want to hear Avett's story. He's used to defending scumballs if the price is right and he's on a retainer from the new owner of Avett's father's bar–Rome. Avett can't even fathom the reason behind that.
Thing is, there are tons of people who owe Avett's father a debt of honor, as one might call it. Avett is one of them, but she can't seem to ever make the right choice. That she's attracted to the no-nonsense Quaid is simply proof-positive.
Quaid Jackson is a poor boy done good. Literally. He worked his way from nothing to an almost-guaranteed partnership in his firm. Unfortunately, all his wealth and standing is beginning to feel a bit hollow. His marriage to his high school sweetheart turned out to be a big sham, and he's on the hook for the divorce. His luxury apartment has every furnishing, but no soul. Meeting Avett, who is so completely woebegone over her bad choices and earnest in her desire to make reparations, is a gust of fresh air for his jaded heart.
You can expect Avett's troubles to double, and triple in this romantic suspense. See, her ex turned to selling drugs to support his habit, and…well, like a lot of junkies, he used the drugs he was supposed to sell. Knowing his suppliers will kill him if he doesn't turn over the cash causes him to implicate Avett! Just when she's almost getting things worked out with her family–WHAM!! Huge problems with the drug lords. While Quaid is no longer on her case, he's totally willing to bear Avett's burdens for her.
I liked the book a lot. I really identified with Avett's sorrow and desire to fix things. She's had some bad experiences, including losing a good friend a few years back for reasons she takes as her own. It's made her semi-self-destructive. Being around Quaid helps her take steps to building back her self-esteem, and each time she makes amends to someone she's hurt brings Avett more in-line with the kind of woman she wants to be.
Quaid is a stand-up guy, and he's ready to defend Avett against snarky district attorneys and murderous drug kingpins. I had a LITTLE trouble accepting his rationalizations at times–any physical relationship with a client is really frowned upon, ethically, but I totally dug how he wanted to get a new start in life, and that meant thinking beyond his nouveaux-riche world. I liked how he took charge of his career, and made choices that were healthy for him.
I totally saw the end coming, and yet wasn't even a little disappointed, which I think is a hallmark of a good story. There's some nice sexytimes, but the book is mostly all about redemption, and how to get out of a bad mess of your own making.
Interested? You can find CHARGED on Goodreads, Amazon, iBooks, Barnes & Noble, and Kobo. And don't miss the first titles in The Saints of Denver Series, LEVELED and BUILT.
****GIVEAWAY****
Click on this Rafflecopter giveaway link for your chance to win a $25 gift card to Amazon or Barnes & Noble–winner's choice–and a signed copy of BUILT.
Good luck and keep reading my friends!
About the Author:
Jay Crownover is the New York Times and USA Today bestselling author of the Marked Men and The Point series. Like her characters, she is a big fan of tattoos. She loves music and wishes she could be a rock star, but since she has no aptitude for singing or instrument playing, she'll settle for writing stories with interesting characters that make the reader feel something. She lives in Colorado with her three dogs.
Catch up with Jay on her website, blog, Facebook, Twitter and Goodreads.