Hi all! Sharing some love for an author whose name may be "new" but her stories have caught my attention. AJ Adams is the pen name of Storm Chase (which is also a pen name!) but this author has some interesting takes on erotic romance. THE BONUS is a newly released adult romance where people find love in the strangest way…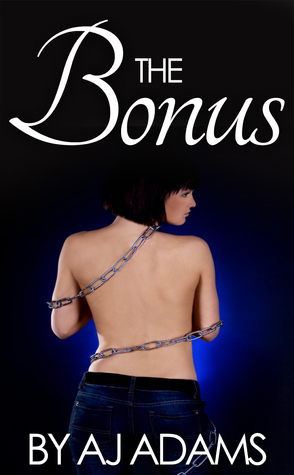 About the book:
Chloe is a seasoned drug courier who finds herself in the wrong place at the wrong time. Facing a lingering and painful death at the hands of the Zetas, Mexico's most brutal cartel, she persuades their enforcer to claim her.
Has Chloe made a huge mistake, or will her choice prove her salvation – and his?
Warning: This book contains explicit scenes of dubious consent, graphic violence and sex.
My Review:
This story contains graphic descriptions of drug cartel activity, including (but not limited to) torture, rape, kidnapping, PTSD, sex, beatings and mental manipulation. It also has a love story, and an HEA.
Chloe is a drug courier who gets mixed up with a drug cartel in Mexico, quite by mistake. See, she's just looking to score a little weed, but the guy she hires tries to scam the seller, and Chloe is caught up as an accomplice. She's been in some pretty tight messes before, sexual slavery, imprisoned in two different countries, routinely beaten, but this time, standing on a melting ice brick in a pool, naked, with a noose about her neck–Chloe knows she's going to die. So, she jumps.
What happens next is love.
Just kidding!
No, seriously, Chloe manages to get free of her noose and gives the bum's rush to one of the lurking giants in the compound, Kyle. Kyle is an American national, working with his half-brother Arturo and second in command of this faction of their cartel. Kyle is also a trained assassin, and former CIA torturer. Kyle's not a soldier for the cartel, he's a messenger. See, when somebody messes up, tries to double cross Arturo, well, Kyle sends a grisly message to all the other small fry as to why that would be a VERY BAD IDEA. Because Kyle is a very bad man.
But he sees something plucky in Chloe, and Arturo owes him a bonus. He chooses Chloe.
Immediate rescue is great, as far as Chloe is concerned but she was sent on a job by Him, and if she fails, Chloe knows He will beat her, severely. "He" being her handler, a sadist in London who took Chloe in at age 15 and raped, beat and burned her into submission. Then, He turned her into a drug mule, a job she has done faithfully for the past 8 years.
Chloe's philosophy in a quote:
"Life's a bitch,'cause if it was a slut, it'd be easy."
Kyle figures he'll have a bit of fun with the waifish girl before turning her into a mule for his cartel, but the interest between them grows. This is a connection by convenience for Chloe, she's never had anyone be nice to her before–at least not without strings. But Kyle is surprisingly gentle. He reads her dream journal, wherein Chloe had chronicled some of His abuse, and through conversation, Kyle begins to recognize what a truly valuable asset his bonus actually is. Plus, she takes excellent care of Kyle, and he relishes her attention.
Of course, He shows up, and Kyle is fast to put Him in his place. Kyle and Chloe do build a strong rapport–but neither knows how to communicate this, having had no experience. There's some miscommunication, and some loyalty to the extreme, and a gruesome end to Him.
The descriptions are graphic, and may be upsetting. Given the context–a drug cartel, an assassin and an expendable girl–the book is quite sunny. Chloe is able to find the bright side of everything, her countless puns were quite the tension breaker. I enjoyed having the POV of both Kyle and Chloe; it's clear that this experience changes both of them–for the better.
Interested? You can find THE BONUS on Goodreads, Amazon, and Barnes & Noble.
About the author:
Delicious novels with fully depicted love scenes that straddle the categories of Romance and Erotica with the occasional Crime committed on the side.
Storm Chase was born September 2012. Her alter ego is Ellen Whyte, a syndicated author who has published roughly 3000 articles and 10 print books. The alter ego is the steady type; Storm is the tearaway who's dedicated to making it work with e-publishing. Since November 2013 Storm also acquired alter ego, AJ Adams who writes cartel and mob stories.
Connect with all of them through Goodreads and Facebook.
Thanks for popping in and keep reading my friends!