Hi there! Welcome one and all to the Cephalopod Coffeehouse, a cozy gathering of book lovers, meeting to discuss their thoughts regarding the tomes they enjoyed most over the previous month. Pull up a chair, order your cappuccino and join in the fun.
Hi there! Today I'm sharing my fave read of the month, and it's clearly HARRY POTTER AND THE CURSED CHILD. I've talked to some young readers who've recently devoured the series, and they report it's not THEIR kind of book, but, as an adult reader, I adored it.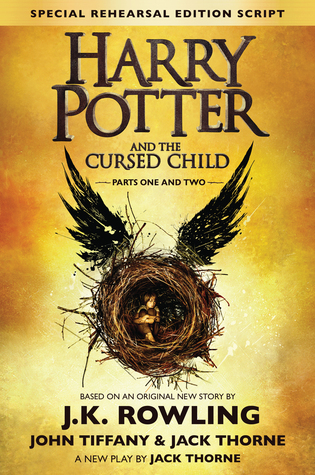 About the book:
The Eighth Story. Nineteen Years Later.
Based on an original new story by J.K. Rowling, Jack Thorne and John Tiffany, a new play by Jack Thorne, Harry Potter and the Cursed Child is the eighth story in the Harry Potter series and the first official Harry Potter story to be presented on stage. The play will receive its world premiere in London's West End on July 30, 2016.
It was always difficult being Harry Potter and it isn't much easier now that he is an overworked employee of the Ministry of Magic, a husband and father of three school-age children.
While Harry grapples with a past that refuses to stay where it belongs, his youngest son Albus must struggle with the weight of a family legacy he never wanted. As past and present fuse ominously, both father and son learn the uncomfortable truth: sometimes, darkness comes from unexpected places.
My Review:
So. I bought the hype, somewhat. I've read ll the HP books with my eldest, nearly 20 years old now, and I couldn't resist this one, even though it's not a novel. It's a play. Expect stage directions and all if you pick it up. It's also not really a kid's story. Which is totally fine because the last three books, IMHO, were for elder readers–late teen to adult. How many ten year olds really want to slog through THE ORDER OF THE PHOENIX, after all?
That said, this book makes a distinct break because a large portion of the story is told from an adult POV, that of Harry Potter at ages 37-40. He's married with three children and one of his kids, the middle child Albus Severus Potter, is a misfit. Not only does Albus get sorted into Slytherin, his best friend is outcast Scorpius Malfoy, only child of Draco Malfoy. Albus struggles with his auspicious parentage, especially as he doesn't possess the fantastic gifts at wizardry of his father, or even his popular elder brother, James. Further, Albus and Harry have a very strained relationship. Harry struggles as a parent to Albus, but has no issues with James and Lily. It isolates Albus, even when Harry makes deliberate attempts, fruitless though they are, to connect.
Meanwhile, Scorpius is haunted by rumors that his father is truly Voldemort, and he's mercilessly harangued at Hogwarts. Albus stays by his side, and they develop a strong, true friendship. The plot gets very messy when a Time Turner is discovered by the Ministry of Magic. See, Time Turners are outlawed because changing the past is a BIG PROBLEM. And, the experimental Time Turner is able to bring people back far further than ever imagined. One person in particular, Amos Diggory, wants Harry to go back and save his lost son, Cedric. This cause, saving The Spare who was murdered in Harry's stead, becomes of prime importance for 14 year-old Albus. And he recruits Scorpius and Cedric's cousin, Delphi, to assist in stealing the Time Turner from his Aunt Hermione in order to pull off this daring rescue.
I think we all know this goes poorly. As all adults will opine, changing the past is fraught with collateral damage. And that's exactly what happens. While we're never eager to embrace the atrocities that have come to pass, we also know that undoing such things, say by murdering Hitler as a child or something, would lead to so many unforeseen consequences that our world would be irrevocably altered. So, the play, the story, embraces the worst of these outcomes, and builds real terror for Albus and Scorpius. It harkens to the adage "No good deed goes unpunished," and we experience a great deal of punishment in this fiction-scape.
As an adult, I relished the nuances of the story. I expect many younger kids won't. They don't have the maturity to fully experience the adult POV, but so many of the readers of this series are adults, and I believe that those people are, like myself, well satisfied. Several themes are similar to all HP books: friendship saves the day, valor is a consequence of situation–not a goal to seek, and courage is being who you are, regardless of consequence. The old ties are strong, and new ties can be beneficial. It was rewarding, to me, to see Harry and Draco on the same side, openly, for the first time. I liked how all the pieces fit together, in the same way that they always have. I didn't feel as if I was wondering, much, and I liked the pacing of the story. I'm out of practice reading plays, but fell right in once I got started. In truth, it was refreshing not having the ponderous descriptions of setting bog me down, just this once. That said, I much prefer novels, on the whole. Though, in reality, this book would have been twice as big if it had been a novel. I was able to follow along with all the scene changes and implied emotive notes without any difficulty. Younger readers might struggle with the format, which is the sentiment I've gathered from those who have read the book already.
I really do not want to spoil the book, but it must be said that both Voldemort and his progeny are present on the page, albeit briefly. It's a bittersweet read with tons of action and a plot that satisfied. I literally read the book in the span of an evening, so you know the pace is fantastic.
Interested? You can find HARRY POTTER AND THE CURSED CHILD pretty much anywhere. But also on Goodreads, Amazon, and Barnes & Noble.
Thanks so much for popping in. Be sure to check out the fave reads of my fellow Coffeehouse reviewers.