Hi there! Welcome one and all to the Cephalopod Coffeehouse, a cozy gathering of book lovers, meeting to discuss their thoughts regarding the tomes they enjoyed most over the previous month. Pull up a chair, order your cappuccino and join in the fun.
Hi there! I'm so excited to share a review for a new adult steampunk romance out from Gail Carriager. While I loved all the books in her YA Finishing School series, (Etiquette & Espionage, Curtsies & Conspiracy, Waistcoats & Weaponry, Manners & Mutiny, ) I was totally excited to check out an adult read, see if the transition to an older audience would happen, or if it would feel too young… Reading POISON OR PROTECT, I was not disappointed!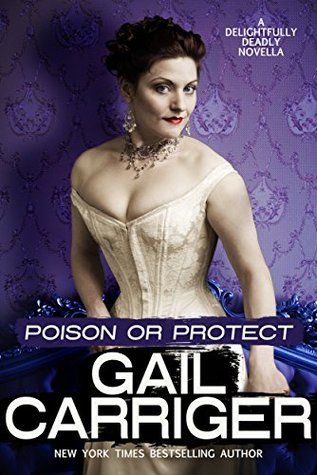 About the book:
Can one gentle Highland soldier woo Victorian London's most scandalous lady assassin, or will they both be destroyed in the attempt?
Lady Preshea Villentia, the Mourning Star, has four dead husbands and a nasty reputation. Fortunately, she looks fabulous in black. What society doesn't know is that all her husbands were marked for death by Preshea's employer. And Preshea has one final assignment.
It was supposed to be easy, a house party with minimal bloodshed. Preshea hadn't anticipated Captain Gavin Ruthven – massive, Scottish, quietly irresistible, and… working for the enemy. In a battle of wits, Preshea may risk her own heart – a terrifying prospect, as she never knew she had one.
Warning: Contains men pleasing women, and ladies who know what they want and ask for it, sometimes in detail. May also contain plaid, appearances from favorite characters, and the strategic application of leather gloves.
My Review:
This is the first book in a series, and features an accessory character from the Finishing School Young Adult book series who is all grown up now. It's an adult romance, set in a 1870s England Steampunk world, rife with political intrigue, assassins, vampires, werewolves, and mechanicals.
Preshea Buss is a four-time widow, mostly by choice. Trained as an assassin in her Finishing School she accepted the favor of a high-ranking vampire, Lord Akeldama, who proceeded to get her ingratiated to men who needed dispatch. Well, not the last one. He was just old, and not very troublesome. Dubbed the "Mourning Star" by the tabloids, she's never met a man who'd claim her heart. She's been contracted to destroy the budding romance of a plain, but well-fortuned woman, Lady Violet, and her erstwhile, penniless suitor, Mr. Jackson, by Lady Violet's father, the Duke of Snodgrove. It's not really Preshea's cup of Darjeeling, but the reward will enable her to ruin the one man who decimated her heart: her dastardly father. Plus, there are concerns the Duke is in grave danger of assassination. Preshea can protect the Duke while she manages Mr. Jackson…
Captain Gavin Ruthven is a recent retiree from Her Majesty's service. The tall, broad Scotsman would normally never be interested in a wee lass like the Mourning Star, but they are thrown together for three weeks while he attends his longtime friend, Jack (Mr. Jackson) on his quest for Lady Violet's hand. It's a good cover for the captain's other mission: ensure the Duke isn't killed. Is the noted widow there for pleasure, or will she seal the duke's death?
I was drawn to this author because of her quirky and fun YA steampunk books. While we are still in that world per se, this novella is fully adult, with zinging banter, scandalous repartee,  and steamy interludes. It's not a kids book, by any means, and I really enjoyed this slow-burning romance. Preshea has never been touched with love. Abused as a child, and a married woman, she has no need for another man in her life. She's well-settled due to her many inheritances, and Captain Ruthven–while attractive–initially appears the epitome of a lumbering brute. Yet, the more time they spend the more she is captivated and intrigued by his quiet nature and compassionate conversation. Gavin has little interest in the staid ladies of the ton, even if he were a catch. He's done well financially, making a decent fortune in investments, but he needs a woman who would take him well-in-hand. In short, he's a submissive, and he lives to pleasure women with his compliance, as well as his body.
Expect mischief and mayhem, and the employment of dirigibles to both assassination and seduction. As with previous books, the story is rollicking with a pace that sweeps the reader into falling for unlikely heroes. Gavin is perfectly edible, and Preshea is a lonely woman who never understood all that she'd missed growing up so isolated. Not only does she gain a lover, she makes dear friends. Poor Mr. Jackson, is, however, broken-hearted….for a time.
Interested? You can find POISON OR PROTECT on Goodreads and Amazon.
Thanks for popping in, and be sure to visit my fellow Coffeehouse reviewer, to see if they have a book you might fancy.