Hi there! Today I'm sharing a review for a new BDSM drama/romance in the Subs Clubs series by J.A. Rock. 24/7 is the fourth book in this series and relates the healing and heartache of Gould, a man plagued by regret over the loss of his friend, and ex-lover, Hal–still, three years later. I really loved MANTIES WITH A TWIST, so I was eager to read this one.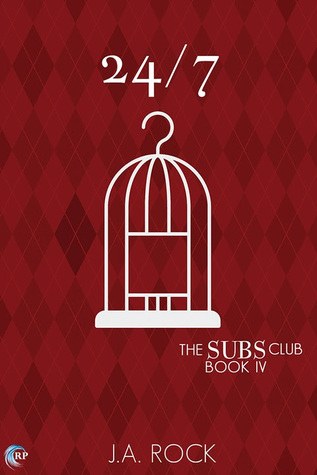 About the book:
We started the Subs Club to make the kink community safer for subs. Except now the others are so busy chasing their happy endings, it's like they've forgotten what Bill did to Hal and the fact that he got away with it. They used to think I was betraying Hal's memory by hooking up with the owners of the club where he died. Now they don't seem to care about any of it anymore.
Maybe I am sometimes angry with GK and Kel for giving Bill a second chance, but they've been mentoring me for a year now, and whatever else they've done, they make me feel incredibly safe. So I want to try something: I want to offer them my complete submission, 24/7. To serve the people who forgave Bill. That's the way I want to hurt.
Except I'm starting to care about them in a way I never meant to—and I think they feel the same way. But after Hal, I don't know if I want to be in love again. Because what I really need, more than anything, is to see Bill brought to justice. Even if I have to do it myself. Even if it means losing GK and Kel.
—Gould
My Review:
This is the fourth book in a series, but I think it can still be enjoyed on its own. It is an adult book that features a M/F/M-ish type of relationship…it's honestly hard to classify for reasons below.
4.5 stars.
Gould is a 28 year old Jewish man who knows he's a submissive. He's been in the BDSM scene for years now, and is one of the founding members of the Subs Club, a collection of four childhood friends who all practice BDSM, and are all male and all subs. It formed three years ago when Gould's ex, Hal, also a sub, died by strangulation in a scene at a club owned by Kel and Greg–who are married. Kel is Greg's Dom, and she's a task master. Gould never forgave himself for breaking up with Hal, who was–admittedly–too into drugs and floundering. Hal and Gould had been tight; Hal was Gould's first ever Dom, and Gould felt responsible for Hal dying–to a degree. He's really still torqued off that the Dom who left Hal restrained in seclusion, Bill, got off on the second-degree murder charges while Gould pretty much struggles with his grief–almost daily.
At the beginning of the book Gould has been "playing with" Kel and Greg for several months. They are a heterosexual couple, but Kel enjoys having male playmates for Greg, and while Gred is her submissive, he is dominant to Gould. They have lots of kinky sexytimes, but the Gould really favors humiliation and loves being chastised. While roiling in his shamed subspace he's able to commune with Hal's spirit, and Hal's inner voice is always putting him down, so that adds more shame for Gould to immerse himself in. He's all about the shame.
I liked the way their relationship worked, in that Kel and Greg both embraced Gould, for the most part. Greg isn't gay, and he isn't bisexual, but he finds something very attractive in Gould, and is willing to share more and more of Kel with him. Gould's always kept his feelings buried, but he knows he needs more from Kel, as a Dom, and he finally works up the nerve to ask if they can explore a M/s (Master/slave) dynamic. Kel trained as a Master, but never stuck with it due to the negative backlash she faced as a female. Gould's request is a big temptation for her, and she and Greg decide to try this with Gould–for a week. Greg likes being submissive, but he doesn't feel compelled to a 24/7 power exchange, like Gould craves. There are upsides, but Gould's secrets regarding his depression over Hal and still-simmering rage at Bill complicate matters. Also, he knows that Kel and Greg have forgiven Bill–and have worked to rehabilitate him since Hal's death–and that's a big betrayal for Gould's trust.
I'm not going to delve much deeper into the plot, but I liked the dynamic here. I felt Gould's pain, his obsessive depression, and how sinking into sub-space really helped him to forget it for a time. Kel and Greg are fantastic partners to each other, and to Gould. Gould needs a lot of TLC, even if he won't admit it, and Kel's not a big fan of punishment. Plus, her brand of punishment is less about pain and more about humiliation, which works for Gould. Greg is staunchly het, but he's also clearly attracted to Gould, which is nice. I've read a good big of BDSM, and this book is really less erotic and more intellectual. It's all about the mind games, and tripping Gould out of his generally negative headspace. If you are looking for a gushing romance, this is not your book. (The only gushing that happens is rather gross, and completely humiliating to Gould, which satisfies his needs.) There is a quiet romance, of sorts, here; mainly it's Gould asking for the love and attention he needs and both Kel and Greg stepping up to the plate. That was completely satisfying, even if it didn't come with all heavy breathing and juicy moments. There is a lot of emotion to be had, which is why I even classify it as a "romance" of sorts…
As the series follows each of the four Subs Club members finding their forever Dom, I suppose this one marks the end. There is a significant sense of closure for the subs, as they all have mainly healed from the loss of Hal, and found happiness with their permanent partners, even Gould who gets the love, support and therapy he truly needs. This book was definitely darker than MANTIES WITH A TWIST, but it made sense that Hal's bereaved ex, Gould, would have more trouble moving on. I loved the interaction with all the boys: Gould, Dave, Miles and Kamen. They are so loving and sweet to each other, in a purely platonic way.
Interested? You can find 24/7 on Goodreads, Riptide Books, Amazon, Barnes & Noble, and AllRomance. I received a review copy of this book via NetGalley.
About the Author:
J.A. Rock is the author of queer romance and suspense novels, including BY HIS RULES, TAKE THE LONG WAY HOME, and, with Lisa Henry, THE GOOD BOY and WHEN ALL THE WORLD SLEEPS. She holds an MFA in creative writing from the University of Alabama and a BA in theater from Case Western Reserve University. J.A. also writes queer fiction and essays under the name Jill Smith. Raised in Ohio and West Virginia, she now lives in Chicago with her dog, Professor Anne Studebaker.
You can catch up with her online on her website, twitter and Facebook.
Thanks for popping in, and keep reading my friends!