Hi there! Today I'm sharing a review for a first-and-second chance romance from authors Vi Keeland and Penelope Ward. COCKY BASTARD is a fun and flirty story about a gal who needs to start over and the guy who breaks her heart. And then puts is back together again.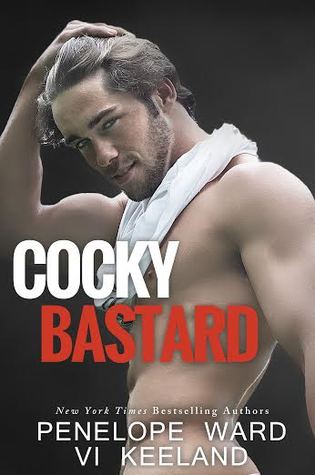 About the book:
He was someone who belonged in my wildest fantasies instead of a rest stop in the middle of Nebraska.
A sexy, cocky, Australian named Chance was the last person I expected to run into on my cross-country drive.
When my car broke down, we made a deal. Next thing I knew, we were traveling together, spending sexually-tense nights in hotels and taking unplanned detours. My ordinary road trip turned into the adventure of a lifetime. It was all fun and games until things got intense.
I wanted him, but Chance wouldn't make a move. I thought he wanted me too, but something was holding him back. I wasn't supposed to fall for the cocky bastard, especially when I knew we'd be going our separate ways.
All good things must come to an end, right?
Except our ending was one I didn't see coming.
My Review:
Aubrey is an attorney on a cross-country drive from Chicago to Temecula, California to take a new position far from her cheating ex, Harrison, a partner in the firm she just left. She's pretty much hating on men when she comes across CB, Chance Bateman, a sexy biker boy who teases her at a rest stop. They meet up later when Chance's bike fails and Aubrey needs a tire change. He agrees to fix her problem, if she'll fix his:  take him to LA. He sweet-talks her into it, and then proceeds to blow up Harrison's attempt at reconciliation by answering one of his ten-zillion phone calls that Aubrey keeps sending to voice mail.
Over the course of eight days–because Chance also talks Aubrey into checking out the Grand Canyon and Vegas, they develop a strong friendly bond, and bizarrely adopt a blind goat kid, but don't get anywhere romantically despite their combustible chemistry. Well, excepting their final night together. Which is everything Aubrey hoped for. Morning after? Not so much.
Fast forward two years. Chance had a debt to settle and it's now over. Can he win Aubrey back? Will she even let him back in the door now that she's finally gotten past her heartbreak?
The book is split into halves, first told by Aubrey second told by Chance. This allows us to access both character's heartbreak and determination to find love again–even with each other. I loved how Aubrey let herself go with Chance, who is as outlandish a man as she's ever met. He's not afraid to work hard, and has overcome many a disappointment in his personal and professional life, so going after Aubrey a second time gets his undivided and creative attention. He's endearingly arrogant, always focused on how to please Aubrey even when she wants nothing to do with him.
Aubrey isn't a heartless harpy. She's had two years of suffering, wishing, and waiting for Chance to simply contact her. To explain what happened in Vegas. He never did in all that time. So why should she let him now? After some good relationships and therapy, she's finally feeling secure enough to get serious, and has been dating a man for seven months. She isn't the type to simply walk out, even if Chance is literally knocking on her door and reclaiming the love of their blind goat-child. Unwilling to trust him with her heart, Aubrey allows him to work back into friendship, and that leads to more, to some degree. Chance is both determined and despondent, by turns, especially as he learns Aubrey has a time limit in her Temecula life–a new job prospect might take her cross-country yet again.
It's a very sweet book, with lots of fun, flirtatious bits. There's just a little bit of steam, and part of that includes a hot shower. I liked how resilient these two people are. They have had such difficulty finding a love that lasts, and it's not realistic to trust a person who has abandoned you, for sure, so I didn't begrudge Aubrey some time to really examine Chance and his intentions. The end is sweet an HEA as a reader could hope for.
Interested? You can find COCKY BASTARD on Goodreads, Amazon, and Barnes & Noble.
About the Authors:
Penelope Ward is a New York Times, USA Today and #1 Wall Street Journal bestselling author. Penelope lives for reading books in the new adult/contemporary romance genre, coffee and hanging out with her friends and family on weekends. She is the proud mother of a beautiful 11-year-old girl with autism (the inspiration for the character Callie in Gemini) and a 9-year-old boy, both of whom are the lights of her life. Penelope, her husband and kids reside in Rhode Island. She is the author of RoomHate, which hit #2 on the New York Times Bestseller list and #1 on the Wall Street Journal Bestseller list. Her novel, Stepbrother Dearest, also spent four consecutive weeks on the New York Times Bestseller list. Other works include the New York Times bestseller Cocky Bastard (co-written with Vi Keeland), Sins of Sevin, My Skylar, Jake Undone, Jake Understood and Gemini.
You can find Penelope on Facebook, her website, Twitter, Instagram, Pinterest, Goodreads and her Private Fan Group.
Vi Keeland is a native New Yorker with three children that occupy most of her free time, which she complains about often, but wouldn't change for the world. She is an attorney and a New York Times, Wall Street Journal, & USA Today Bestselling author. Over the last three years, ten of her titles have appeared on the USA Today Bestseller lists and three on the New York Times Bestseller lists.
You can find Vi on her website,  Facebook, Twitter, Instagram, Goodreads and Pinterest.
Thanks for popping in and keep reading my friends!