Hi there! Welcome one and all to the Cephalopod Coffeehouse, a cozy gathering of book lovers, meeting to discuss their thoughts regarding the tomes they enjoyed most over the previous month. Pull up a chair, order your cappuccino and join in the fun.
This month I'm sharing a review for a newly-released "non-fiction novel" to use the term coined by the book's subject, Truman Capote. Melanie Benjamin's THE SWANS OF FIFTH AVENUE is a knock-down drag-out story of true love and utter betrayal that's all the more poignant for being based in reality. These people existed. And I felt a bit grotesque peeking into the murk of their shady relationships.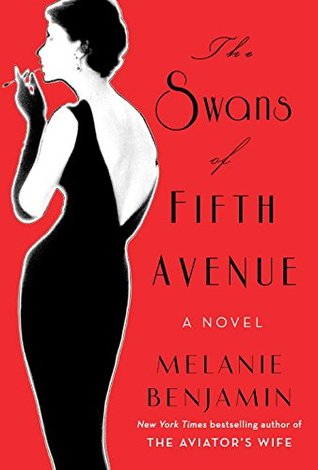 About the book:
From the New York Times bestselling author of The Aviator's Wife comes an enthralling new novel about Truman Capote's scandalous, headline-making, and heart-wrenching friendship with Babe Paley and New York's society "swans" of the 1950s.
Centered on two dynamic, complicated, and compelling protagonists—Truman Capote and Babe Paley—this book is steeped in the glamour and perfumed and smoky atmosphere of New York's high society. Babe Paley—known for her high-profile marriage to CBS founder William Paley and her ranking in the International Best-Dressed Hall of Fame—was one of the reigning monarchs of New York's high society in the 1950s. Replete with gossip, scandal, betrayal, and a vibrant cast of real-life supporting characters, readers will be seduced by this startling new look at the infamous society swans.
My Review:
I'll be truthful, I don't usually read biographical fiction. It's not my thing, but I have long heard the name "Truman Capote" whispered about and while I don't believe I have read any of his work, I recognized his stature in American literature. So, I was hooked into the read for that. I love historical fiction, and the blurb indicated this book to be rife with the sort of dark plot turns only Diana Gabaldon could have wrought.
As I am wont to do, I read a bit. Let it sit. If I'm still curious I go back for more. In this case I could see the blood-spattered writing on the wall. I even took half a day looking into a quick-and-dirty history of Capote. His life seemed both tragic and charmed, and the tatters of his career and friendships were the stuff of quite a lot of public and private banter. I let it sit a week and came back. And I finished it with the ill-ease of someone who's binge-watched a "Real Housewives" marathon. (I can only suspect this as I've never managed to make it past the intros to those shows before turning on something…better? Or, simply turning the tube off…)
What we know: Capote was an out homosexual in a time when such a person was normally killed or jailed. He charmed everyone, men and women alike. His wild, flamboyant ways captivated the cultured ladies of the Manhattan's elite. His waifish looks and witty repartee got him meals and lodgings and vacations and fame. They may have even gotten him love from one of the most beautiful women of the era, Babe Paley. The book relates a special, intimate, though platonic, relationship between Capote and Babe that was well-known at the time and amongst their peers.
I was young when Capote died–of drink and drug excess, it seems, and the pages of the novel fairly sang with love between these mismatched, hopelessly lonely people. Babe's husband, the powerful and wealthy Bill S. Paley–CBS magnate, was a known philanderer, and this took a toll on her emotionally. The exquisite Babe could never be seen out of make-up, not even by her husband, and she doted on him completely, as she was well-trained to do by her mother, to the exclusion of really raising her own children.
The story meanders in time between first-meetings with the "swans": society dames Babe Paley, Slim Keith, Pam Churchill, Marella Agnelli, C.Z. Guest, and Gloria Guinness, and the infamous article Capote penned in 1975 for Vanity Fair, which was a gauche caricature of the beautiful society people that Capote had insinuated himself within. It marked a permanent break in his life, one that many attribute to his ultimate downward spiral into addiction and death. The article, La Cote Basque 1965 was a tell-all of sorts that throttled the society mavens. Ann Woodward, mentioned under a pseudonym, actually killed herself following reading of the article–which recounted the spectacle of her husband's "accidental" death by her own gunshot.
Truman Capote is definitely portrayed as a bounder in this book. He was a social climber with the aim of being the best, and surrounded by the best. And yet, he is made sympathetic. He long struggled to find love–first from his neglectful mother, and then everyone, including Babe. Their relationship may have indeed been a love story for them, but Truman's needs were too great. He had a long-time companion, Jack Dunphy, who urged him not to publish his scathing article, but Truman didn't heed that advice. Or maybe he could not afford to. It was known for some time that he'd been losing control of his addictions, and was years overdue on a novel that he'd been advanced money against. "La Cote" was meant to be one of seven chapters in that book, and only three were ever recovered and printed as "Answered Prayers".
Swans is a beautifully-woven multiple POV story that is without question a melancholy read, with a train wreck-type plot that is only more harrowing for its veracity. Capote's real-life self-destruction was rather spectacular, and fairly well-documented. I left the book feeling sad for such waste, and such sadness. The rarefied world of the New York's social elite is certainly not the stuff that ever filled my dreams, but it was a bit shattering to have all it's unsavory bits on display. On the flipside, it was a meticulous introspection into the ills of high society in general–what power brokers in this world do we not see living to excess, in different aspects of their lives? What morality exists for those who place themselves above others by means of wealth? These were issues that seemed to trouble Capote, and his "justice" was that of the pen. It was a brutal weapon.
Interested? You can find THE SWANS OF FIFTH AVENUE on Goodreads, Amazon, and Barnes & Noble. Expect to find it in bookstores and libraries now. I received a review copy of this book via NetGalley.
And, now! Take a hop over to the websites of my fellow Coffeehouse pals to see what their fave books were for January. As always, thanks for popping in and keep reading my friends!