Hi there! Today I'm sharing a review for a heart-wrenching M/M Christmas romance from L.C. Chase. Featuring a dying artist and a dead-inside attorney, A FORTUNATE BLIZZARD is a story about finding love at the best, worst, time. It was just so touching…it really got to me.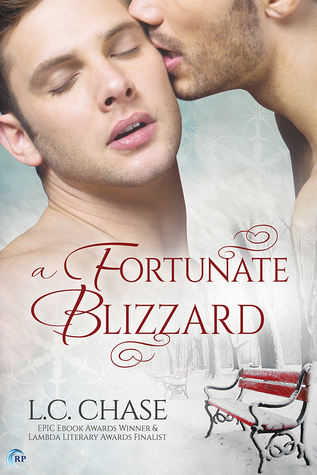 About the book:
There are worse things than being stranded in a blizzard.
Artist Trevor Morrison has always appreciated the little things in life, treating each day as a gift. And with good reason: he's been on the transplant-recipient list for too long now. When he learns just how numbered his days truly are, he resolves not to take them for granted. But he won't be unrealistic, either—which means romantic commitments are off the table.
Marcus Roberts seems to have it all. He's handsome, financially sound, and on the fast track to partnership at a prestigious law firm. In reality, though, his drive for success has meant no time for friends or relationships. Add in the fact that his family discarded him long ago, and he's facing yet another holiday season alone.
When the biggest snowstorm to hit Colorado in decades leaves Marc and Trevor stranded at the same hotel, a chance encounter and a night of passion leads to more than either of them expected. Finding comfort in each other is a welcome surprise, but time is not on their side. Either they find a way to beat the odds, or they lose each other forever.
My Review:
Oh. Man. This one got me right in the feels.
Trevor is a successful artist in the end stage of renal disease. He's been on dialysis for the past seven years in the hopes of finding a suitable donor, but his kidney function is failing and he probably has less than a year to live, even with dialysis. He's 39 and facing his mortality. It's creeping up on what will likely be his last Christmas with his large and loving family, but his flight is cancelled when a blizzard grinds all transportation around Denver to a halt.
Marc is a driven attorney, hell-bent on making partner at 38. He's sacrificed his entire adult life to be the kind of son his homophobic mother would be proud of, only to note that he has no life except work. Stranded in the white out, he makes his way to a nearby hotel and books a room for the night. Seeing Trevor in the cafe, Marc is immediately attracted. His invitation to sit and join him becomes a long conversation and a further invite to share his room once Trevor confesses that he was unable to get a room due to a sell-out.
Neither man is really open to more than one night's solace, despite their incendiary passion. Trevor hasn't had a partner for years, and he's had even less of a libido for most of that time. Something about Marc stirs him, however. In the cold light of day neither Marc nor Trevor can admit they have more than lust boiling along, even if it's true. That said, Trevor doesn't want to reveal his illness and Marc knows a relationship will detract from his workaholic ways. Still, Marc can't abide with Trevor spending his Christmas Eve, and maybe longer, on a couch in the hotel's lobby. He invites Trevor to his beautiful and barren home outside Boulder.
Trevor's reluctant to let any connection build between himself and Marc, but it happen anyway. They spend a fantastic Christmas together, Trevor coming clean about his illness and prognosis when Marc presses him for more than their three day fling when he returns from visiting his family. It is bittersweet and melancholy and heart-wrenching and wonderful that these two lonely souls find a spark in such dire times.
I fully enjoyed the resolution to this one, which, I will state firmly, was an HEA. Marc's selfless offering of himself helped him to realize all that he had to offer others, and allowed him to break free of his self-loathing. I really liked how he engaged himself with his colleagues and found the best way to handle his very sad situation. Trevor is a man who has resolved himself on imminent death. He's afraid to hope one more, probably last, time. And it shows. He does find the courage to accept Marc's lifeline, however, and it proves the adage that life is always darkest before the dawn.
I just plain loved this. It's a well-told strangers-to-lovers story that doesn't ooze sap, despite the medical realities of the plot. The Christmas aspect was balanced, with high and low points–love, loss, isolation, acceptance. I will admit to shedding a tear, or three. As a person with an even rarer blood type than Trevor, I sympathized with his plight. (I may B- but I will always be positive!) There aren't too many sexytimes, but they are all about the feels. Highly recommend!
Interested? You can find A FORTUNATE BLIZZARD on Goodreads, Riptide Publishing, Amazon, Barnes & Noble, Kobo, All Romance Ebooks, and iBooks. I received a review copy of this book via NetGalley.
About the Author:
Cover artist by day, author by night, L.C. Chase is a hopeless romantic, free spirit, and adventure seeker who loves hitting the open road just to see where it takes her. When not road tripping or writing about beautiful men falling love, L.C. can be found designing book covers featuring said beautiful men, drawing, horseback riding, or hiking the trails with her goofy four-legged buddy.
You can link up with LC online on her website, Goodreads, Facebook and twitter.
Thanks for popping in, and keep reading my friends!