Hi there! Today I'm sharing a review for the third erotic novella in Jennifer Probst's Steele Brothers series. CATCH ME and PLAY ME were both about alpha men and the sexy women they pleasure. DARE ME was all about a man needing discipline. And BEG ME is a second chance romance. When Remy Steele finds Cara, the lost love of his life, awaiting him in his FANTA-C suite he not sure if this is a cruel joke or a "do over."
Don't for get to scroll down and enter the giveaway for two of Ms. Probst's bestsellers!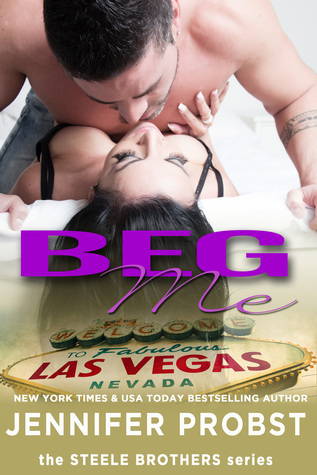 About the book:
Remington Steele comes to Vegas to be with his brothers and try to get over the one woman he's never been able to forget. As childhood sweethearts, she hadn't been able to handle his Dominant tendencies, choosing to run away without a good-bye. But when he's suddenly face to face with Cara Winters, all grown up and finally ready to be his, Remington needs to make his own choice. To leave the past behind forever, or forgive and be with the woman he's always loved?
Cara wasn't ready to be the type of woman Remington needed in his life, so she disappeared and broke his heart. But she's changed, and is ready to embrace the woman she always craved to be. She begs him to take her for one night, and Remington finally agrees. Will they get a second chance at love, or are the scars from their past too deep to heal?
(ADVISORY: THIS IS A SHORT EROTIC NOVELLA WITH BDSM ELEMENTS. THIS IS NOT INTENDED FOR READERS UNDER 18 YEARS OLD. HAS BEEN REVISED TO INCLUDE ADDITIONAL SCENES.)
My Review:
This is the fourth book in a series, and can be enjoyed as a standalone.
Remington Steele (yes, I died, too, reading that name!) is the youngest of the four Steele brothers and the last to leave his home in Atlantic City to become a Vegas dealer. He's also the next on the list to get a night of extreme pleasure via the FANTA-C matching service. Remy's been feeling down, unable to build a bond with a new female sub for years…not since his college sweetheart, first and only love, and first D/s partner fled their home leaving only a note on his dresser.
So, naturally, the woman of his dreams is Cara–and she's his FANTA-C match for one night only.
I liked this one. What gal doesn't want to pass out from too many orgasms, amiright? Cara's a BBW, and she was really fragile when she first met Remy in college. She couldn't tolerate his compliments, which led to lots of punishment. She wasn't sure about the direction of her life, and she panicked. It happens. She explains all this in their night together, and it solidifies one thing for her:  Remy is the only man who can be a partner to her in all ways.
Remy, on the other hand, thinks their one night is a chance to purge the toxic emotions from his memory. He's pined for Cara too long to just let it all go…right?
Well, it's a ROMANCE and an HEA is required. Fear not, it happens. It's a sexy short read, with a sub that will not be denied, and a Dom who will not relinquish control. This was one of the more strong BDSM titles in the series, with bondage, orgasm denial, and flogging. Expect lots of tears from both parties, and a break-up to make up formula, as is the norm here. Enjoyable, quick, sexy read to fill in your time waiting for the nurse to call you into an examining room.
Interested? You can get your copy of BEG ME on Goodreads, Amazon, Barnes & Noble, iTunes and Kobo.
Available now!
CATCH ME on Goodreads, Amazon, Barnes & Noble, iTunes and Kobo.
PLAY ME on Amazon, Barnes & Noble, iTunes and Kobo.
DARE ME on Amazon, Barnes & Noble, iTunes and Kobo.
****GIVEAWAY****
Click the Rafflecopter link below for your chance to win a signed paperback of SEARCHING FOR ALWAYS and SUMMER SINS by Jennifer Probst. (US Only.)
a Rafflecopter giveaway
Good luck and keep reading my friends!
About the Author:
Jennifer Probst wrote her first book at twelve years old. She bound it in a folder, read it to her classmates, and hasn't stopped writing since. She took a short hiatus to get married, get pregnant, buy a house, get pregnant again, pursue a master's in English Literature, and rescue two shelter dogs. Now she is writing again.
She makes her home in Upstate New York with the whole crew. Her sons keep her active, stressed, joyous, and sad her house will never be truly clean. She is the New York Times, USA Today, and Wall Street Journal bestselling author of sexy and erotic contemporary romance. She was thrilled her book, The Marriage Bargain, was ranked #6 on Amazon's Best Books for 2012. She loves hearing from readers.
Visit her website for updates on new releases and her street team. You can also find her Facebook, twitter, and Goodreads.