Hi there! Today I'm so excited to share in the blog tour for Jennifer Probst's newest release, LOOKING FOR BEAUTIFUL. Though this is a book in series, you can pick it up as a standalone. This is a classic friends-to-lovers story except the gal is engaged to another dude. And the guy is really only a one-nighter type. Well, at least until all of that changes. Don't forget to scroll down and enter the giveaway!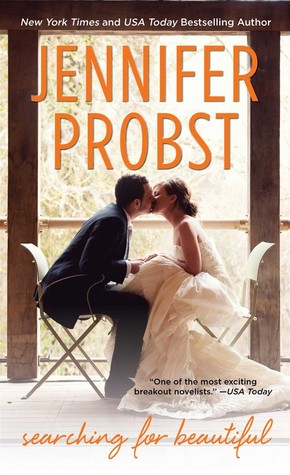 About the book:
Genevieve MacKenzie has her life completely under control. About to wed the charming Chief doctor at the local hospital, she's an up-and-coming surgeon with everything she could ever want. Until an escape through the church window on the day of her wedding sends her life into a tailspin…and flings her right into her best friend's arms.
When Wolfe catches his best friend falling out a window on her wedding day, he doesn't ask questions. He whisks her away, determined to watch over her and discover the truth behind her desperate escape. But when his feelings turn more than platonic, he realizes he may risk his most important relationship in order to protect his damaged heart, and the woman he loves.
Can Genevieve and Wolfe's friendship turn into something deeper—or is it already too late for true love?
My Review:
Gen is a gal on the run, quite literally. It's her wedding day and her instincts are screaming to get the heck away from David, the surgical chief of her residency program–and her fiance waiting at the head of the church. Though she had trained herself over the past two years to bow to David's counsel and ignore her inner voice of reason, this time she listens.
Wolfe is a more than just a best friend to Gen–he's her soul-brother. David had nearly extinguished their deep friendship, but Wolfe is the one who finds Gen all splayed out in her wedding gown after she jumped through the church window. He scoops her up, up and away and keeps her family at bay while Gen takes a few days to work through her emotions. Memories of life before and after David assail her, and she sees the machinations David set in motion–and it both frightens and sickens her, especially when Gen learns how deep his lies extend to her family and their workplace. He's a classic abuser, in the early "isolate and detain" stage, and it's soon after Gen's return that the emotional battery morphs into the physical. Good thing Gen has let her friends–and Wolfe–in on her big secrets.
Wolfe is, himself, a man of dark secrets. He and Gen got along so well because she never pushed for his history. She accepted him at their first meeting, which was less than he could do, actually, and he respected her, but now they are sharing her house so that Gen isn't alone in case David attacks. And it's a small house. And Wolfe is a magnetic man. Gen is attracted, and part of her healing is to realize that she's attractive. David spent months and months tearing her confidence to shreds, and Wolfe carefully stitches the pieces back together. Thing is, Wolfe doesn't feel entirely worthy of Gen. He feels tainted by the horrors of his past. The people closest to him, including Gen, are determined to correct that misapprehension.
I liked this story for a few reasons: the abuse/abuser trope was realistic, the love story was appropriately-paced, and the characters felt real. Gen and David had a "perfect" relationship to all eyes, but within the cracks were deep. As all this is told through Gen's memory she is able to see clearly all the cuts and slights of his control, his emotional battery, and his isolating tactics. It takes her time to unravel all his plans and schemes, and time is a big part of the book. It allows Gen and Wolfe time to reconnect, and to connect. Their relationship prior to Gen's altar dash was always platonic, but her shattered self-esteem is more than Wolfe can accept. He steps in, ruthlessly at times, as a coach and player on the sexual battlefield. Let's just say Gen got her groove back, but it's always going to be friends-with-benefits with Wolfe. He's not going to settle down, because what woman can accept a man with his past, right?
Well, probably Gen. Who has loved him as a friend, and now more, since they first met. When he can't accept her love she's gotta protect herself and quit him cold turkey. And that's the second-to-last step on their journey to HEA. There's a good bit of steaming sexytimes, told from both points-of-view, and I liked having Wolfe's brain relish the love Gen slathers on him. Good stuff, that.
I had no trouble following this book without reading the first two in the series. I know this is a series, but I didn't need the other players so much. Could have done without at least two-thirds of the ensemble cast. Good thing they didn't take up much of the page count. It's likely that the next book is Arilynn's love story–with a hunky police officer who showed up at Gen's house on a few calls over David.
Interested? You can find SEARCHING FOR BEAUTIFUL on Goodreads, Amazon, Barnes & Noble, Kobo, and iTunes.
***GIVEAWAY***
Click on the Rafflecopter link below for your chance to win a necklace and signed backlist book from Jennifer Probst.
a Rafflecopter giveaway
About the Author:
Jennifer Probst wrote her first book at twelve years old. She bound it in a folder, read it to her classmates, and hasn't stopped writing since. She took a short hiatus to get married, get pregnant, buy a house, get pregnant again, pursue a master's in English Literature, and rescue two shelter dogs. Now she is writing again.
She makes her home in Upstate New York with the whole crew. Her sons keep her active, stressed, joyous, and sad her house will never be truly clean.
She is the New York Times, USA Today, and Wall Street Journal bestselling author of sexy and erotic contemporary romance. She was thrilled her book, The Marriage Bargain, was ranked #6 on Amazon's Best Books for 2012. She loves hearing from readers. Visit her website for updates on new releases and her street team.
You can also catch up with Jennifer online on Facebook, twitter and Goodreads.
Thanks for popping in and keep reading my friends!