Hi there! Today I'm sharing a review for the first book in a planned YA fantasy series. SEEKER, by Arwen Elys Dayton, is an interesting look at mystical power and the people who can wield it, but I'm not sure I'd recommend it.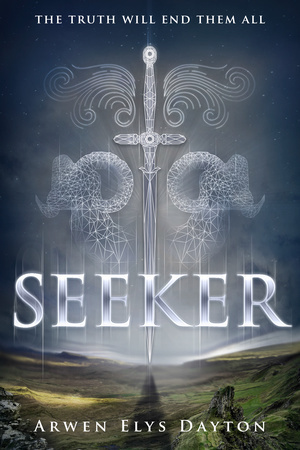 About the Book:
Quin Kincaid has been put through years of brutal training for what she thinks is the noble purpose of becoming a revered 'Seeker'.
Only when it's too late does she discover she will be using her new-found knowledge and training to become an assassin. Quin's new role will take her around the globe, from a remote estate in Scotland to a bustling, futuristic Hong Kong where the past she thought she had escaped will finally catch up with her.
My Review:
The blurb indicates this is Quin's story, but the POV is actually that of four teen-ish characters: Quin, John, Shinobu and Maud. Quin, John and Shinobu are all training to be Seekers, while Maud is a Dread. In this world are some futuristic weapons and old artifacts, most importantly the athame, a stone dagger which directs navigation through space.
The apprentice Seekers are told their role is to be defenders of humanity, but this is not the case under the current trainer: Briac, Quin's father. Briac is a mercenary who uses his power to kill for pay. John already knows this–Briac had attacked his own mother years ago and stolen his family's athame. It is John's sworn duty to get it back.
Briac holds John apart in the training, however, neglecting to complete it. John is banished, and urges Quin to run away with him, as they are a clandestine couple. Quin won't; she believes in her noble purpose as a Seeker and is elated to proceed and learn to work the athame, as is Shinobu–until they discover they will be compelled into murder-for-hire. There's a whole lotta angst, what with being an assassin at age 15…
Maud is a different creature than a Seeker. As a Dread she is to oversee the Seekers, and make sure they use the athame for the good of humankind. She had been trained (for centuries) by her master, but he is resting between planes and his apprentice is overseeing her–with extreme brutality. She can help the fledgling Seekers, but isn't sure if she should.
John returns to claim his athame, leaving Quin's home and family in tatters and bleeding. The rest of the book is a chase through the space of their world for John to regain his athame, Quin to lose-then-regain her memories, Shinobu to become an opium addict then redeem himself, sorta, and Maud is finally able to make the proper choices to right the wrongs which occurred while her master slept.
In truth, I have a low threshold for liking fantasy, but this was a convoluted book. Many times I stopped to read something else, and I can't say–even after finishing–that I'm glad I completed it. The threads of this book were woven too loosely for me to see the tapestry. Too many breadcrumbs leading toward later parts with no real cohesiveness. The end was cliffhangery, with a resolution that left the remaining players in pursuit of each other, which was frustrating after such a long read. I know there's a sequel planned, but I'm not sure I'll pick it up. There was nothing wrong with the writing, but the story never grabbed me. There was no trust between people who should have developed a rapport; every character was some awful shade of bad. Parents lie to their kids, knowing it will do them harm, because of a sworn oath? I call BS on that. Sorry. No oath is going to force me to make my kid a murderer. Not one of the adults in his story had one scrap of decency. And, the kids? Quin and Shinobu fall apart. John's the only one with a backbone, and I'm still not sure if he's capable of doing the right thing.
It's just my opinion, but this book was more hype than story, for me.
If you're interested, you can find out more about SEEKER on Goodreads and it's for sale today on all the major retail outlets. I received a review copy via NetGalley.
Thanks for popping in, and keep reading my friends.