Hi there! Welcome to my stop on the blog tour for THE BOOK OF IVY sponsored by YA Bound Book Tours. For other stop on the tour click here. This YA dystopian romance by Amy Engel is a compelling read.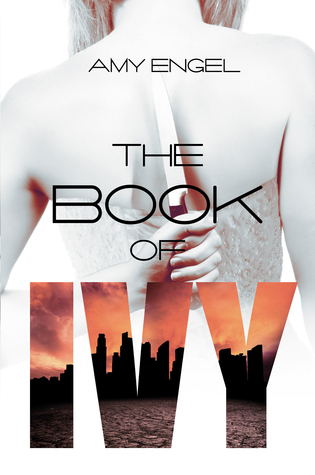 About the book:
After a brutal nuclear war, the United States was left decimated. A small group of survivors eventually banded together, but only after more conflict over which family would govern the new nation. The Westfalls lost. Fifty years later, peace and control are maintained by marrying the daughters of the losing side to the sons of the winning group in a yearly ritual.
This year, it is my turn.
My name is Ivy Westfall, and my mission is simple: to kill the president's son—my soon-to-be husband—and restore the Westfall family to power.
But Bishop Lattimer is either a very skilled actor or he's not the cruel, heartless boy my family warned me to expect. He might even be the one person in this world who truly understands me. But there is no escape from my fate. I am the only one who can restore the Westfall legacy.
Because Bishop must die. And I must be the one to kill him…
My Review:
I wasn't sure what to expect based on the blurb: 16 y/o Ivy Westfall is arranged to be married to the only child of the President of their post-apocalyptic town, and then she's supposed to kill her new husband. I was genuinely surprized at how well I liked this book.
In this dystopian future, there aren't many people left: 10,000 in the fence-protected Ozarks town of Westfall. No one knows about the rest of the world because anyone venturing out of the fence is killed (presumably). Ivy's father is the lone child of the town's founder, and his town of Westfall was seized in a police coup by the grandfather of her husband-to-be, Bishop Lattimer. Ivy has been coached throughout her life that the Lattimers are evil, and need to be deposed. Her elder sister, Callie, was originally betrothed (in the arranged marriage system of Westfall) but Bishop objected and it is now Ivy's duty–not only to marry him, but also (in accordance with her father and Callie's plans) to kill him.
Quick note, because of the history of nuclear war and disease, the lifespan of this world is lower, and younger procreation yields healthier babies, hence the marrying of teens with the objective of early pregnancy. Also, it's a bit of a 1950's world where the wives are strongly expected to remain home as baby incubators–something which greatly dismays the literate and curious Ivy.
Frankly Ivy is terrified. She has been home-schooled and rarely ever mixed with anyone, let alone boys. She can't understand why Callie was passed over; cunning Callie is petite, dark and lovely while Ivy is too tall and too awkward and too impetuous. Still, Ivy presents herself for the marriage, because to not agree to marrying is a crime in Westfall–one that carries a banishment (death) sentence. Ivy is afraid Bishop will assert himself as her husband against her will (read: rape her), and yet, he doesn't. At all. I wasn't sure if he was interested in girls, or not, for a bit there. It seems Bishop wants a real relationship with Ivy–not just a sex partner.
Meanwhile, Ivy has been told her entire life that President Lattimer killer her mother. Remaining with Bishop teaches her the folly of trust–her own family lied, repeatedly, in order to gain Ivy's cooperation. The more time Ivy spends with Bishop, the more she realizes that she cannot achieve her family's goals. And why should she! Vengeance is not a dish Ivy is comfortable serving–warm, hot or cold–and cold is not the way to describe her new feelings for Bishop.
I really enjoyed this book. I had a few qualms–it seems that Ivy and Bishop pretty much do….nothing. Unorthodox Ivy barely knows how to cook and requests a job so she doesn't have to sit around all day. Bishop is being groomed to replace his father, but he spends long hours just hiking around, lazing about in the sun. Pretty poor showing for a world where the collective number of citizens is barely twice the population of my son's high school. I can't fathom anyone being spared in terms of skill training. This seemed a glaring oversight in the world-building. I did appreciate the frank discussions of domestic violence, and the hardships of forced marriage very much.
The romance that blooms between Ivy and Bishop is organic and well-paced. He has no trouble calling her out for "putting on a show" for others, and demands her honest affection–which she is reluctant to give. How can she give her heart to a boy she is required to kill?
Ivy, of her own self, is an admirable character. She has real spirit and a desire to do right, no matter her familial influences. Her willingness to sacrifice for Bishop was heart-rending. I eagerly await her next adventure.
And check out this trailer. Seriously gave me chills!

Interested? You can find THE BOOK OF IVY on Goodreads, Amazon, Barnes & Noble, Kobo Books, iTunes, and Google Books. I received a copy of this book via NetGalley.
***GIVEAWAY***
Click the Rafflecopter link below for your chance to win
a whole lotta book swag, including a signed book, a necklace,
or even jeweled booksmarks.
There will be 6 winners. US Only.
a Rafflecopter giveaway
Good luck and keep reading my friends!
About the Author:
Amy Engel was born in Kansas and after a childhood spent bouncing between countries (Iran, Taiwan) and states (Kansas; California; Missouri; Washington, D.C.), she settled in Kansas City, Missouri, where she lives with her husband and two kids.  Before devoting herself full-time to motherhood and writing, she was a criminal defense attorney, which is not quite as exciting as it looks on TV.  When she has a free moment, she can usually be found reading, running, or shoe shopping. The Book of Ivy is her debut YA novel. Find her online on her  http://amyengel.net/ or .