Hi all! Today I have the pleasure to review a book for a dear friend and fellow writer, Katie Sparks. Her first published book, REALITY NATALIE is a Middle Grade story about a girl who gets into a good bit of trouble with her parents and friends on her way to winning a spot on a local TV show.
About the book:
CAMERAS ROLLING…ACTION! The most popular kids' TV show, Kidz Konnection, decides to hold auditions for a guest host spot, and the show's BIGGEST fan decides to audition.
[Cue Natalie Greyson]
Eleven-year-old Natalie is determined to overcome her habit of turning into a tongue-tied, air ball burping, runny-nose disaster whenever something embarrassing happens in front of an audience so she can audition for the coveted role. As the show's biggest fan, no one could possibly deserve it more than her. Except a giant obstacle stands in her way: her parents, who deny her permission, think she is too young to be on TV. To make matters even worse, Natalie's naturally talented best friend, Kailyn, decides to audition too, and will stop at nothing to win – like lying during a practice session and tearing up their friendship pact.
With their friendship suddenly in question, Natalie turns to her blog, In A "Nat" Shell, to vent her frustrations about Kailyn's spiteful actions, but Natalie's emotional outpouring and lies only creates more anxiety for herself. With the stakes high, Natalie goes against her parent's wishes and decides to audition, but Kailyn has her own secret plan to be Number One, even if it means doing so at the expense of her best friend. Can Natalie find a way out of the drama and into the spotlight? Or will the competitive pressure cause her to lose her ultimate dream along with her best friend?
My Review:
Natalie is an ordinary girl with big dreams. Hearing that her favorite TV show is having auditions for a guest host, she's ready to spring into action. Unfortunately, her skeptical parents are overwhelmed with work. Realizing the audition date falls on the same day her 4 year old siblings (twin terrors) are scheduled for a magazine cover shoot, they put the kibosh on. Oh, and to add to this disappointment Natalie's friend, the uber-talented Kailyn who wins every talent show, has decided to audition for the part.
Life is so unfair!
Natalie doesn't want to give up on her dream, however, and strives to find a way to get on the TV set. A school field trip to a local TV news studio seems to be Natalie's best chance at practicing for stardom, but, alas, Natalie suffers a humiliation almost beyond bearing. Relying on Kailyn to help her chances isn't a good idea either–it seems Kailyn is all about winning, even if it hurts their friendship.
With the audition days away, Natalie's guilty of lying, sneaking, and impersonating a parent–not to mention losing a good friend and stage fright. How can Natalie make amends, and get the part? Well, Natalie's in for a big dose of reality, and earns some second chances.
I like Natalie. She's a real kid–the kind who'll try to sneak a second cookie into her lunch, or get angry at a friend, or offer her second-best pencil to a classmate in need. She has issues with her parents, thinking she's the odd-kid-out as they deal with the stress of twins and careers, but she has a good relationship with them, nonetheless. They talk. They work stuff out. Natalie knows she can voice her fears and be heard–when she tries find a good time for conversation, anyway.
The secondary characters are also very well-written and playful, adding humor, burping, and general social ickyness. Hey, they're 11. They're entitled. 😉 Natalie and Kailyn are also friends with Maggie, who helps them work through the competition aspect of their friendship. And, Gross Robbie is part confidante, part comic relief. He has some keen insight, and some muddy sneakers.
This is a story suited for girls in that 4-5-6th grade age group, where the dynamics of friendship are changing and cliques are developing. Natalie questions her friendship with Kailyn and if the loss would be outweighed by gaining the TV show spot. I think she makes some good decisions here. Natalie's fervent wish to be chosen for the TV show, even ahead of Kailyn, is a very genuine desire to which readers can relate. Natalie has the chance to be mean, and sabotage Kailyn, but chooses the higher ground and I admired her for that. It's a fun read sure to entertain middle grade/tween readers.
Interested? You can find REALITY NATALIE on Goodreads and Amazon. I received this book from the author because we're friends, and I begged for a final copy after I spent years hearing pieces of if read aloud in our writers critique group. Congrats, Katie! I'm so glad to watch your dream come true.
WIN A COPY on Goodreads by entering HERE!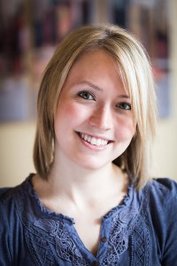 About the Author:
At a very young age, Katie Sparks discovered the magic of books. She counted on weekly library visits and treasured receiving her first library card at the age of five. At six, she wrote her first story called Baby Carrie (still in her collection today!)
Katie knew then that writing would be in her future. By day, she is an editor for the parent consumer line at a non-profit medical association and enjoys working closely with authors and industry professionals. Immersed in the publishing industry in both her professional and personal life is a dream come true. On weekends you will often find her writing and sipping coffee at one of the many unique coffee shops in Chicago, spending time with family and friends, or curled up with a new book.
Katie has been an active member of SCBWI for the past seven years. She lives in Chicago with her devoted and extremely vocal cat Moe. Reality Natalie, published by Firedrake Books, is her first novel.
You can catch up with Katie online on her website, Goodreads, and twitter and Facebook.
Thanks for popping in and keep reading my friends!