Hi There! Today's book is a YA Mystery/Adventure from April Henry. I was raised on Nancy Drew mysteries, way back when, so I have a soft-spot for teen sleuths. THE BODY IS THE WOODS is the beginning of a new series–one I plan to follow.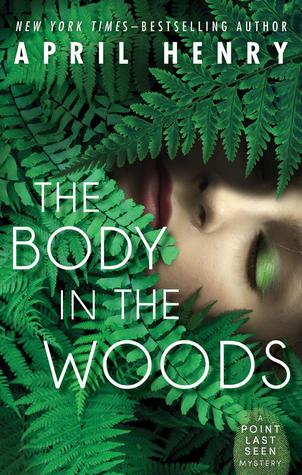 About the book:
In this new series told from multiple perspectives, teen members of a search and rescue team discover a dead body in the woods.
Alexis, Nick, and Ruby have very different backgrounds: Alexis has spent her life covering for her mom's mental illness, Nick's bravado hides his fear of not being good enough, and Ruby just wants to pursue her eccentric interests in a world that doesn't understand her. When the three teens join Portland County Sheriff's Search and Rescue, they are teamed up to search for a autistic man lost in the woods. What they find instead is a dead body. In a friendship that will be forged in danger, fear, and courage, the three team up to find the girl's killer—before he can strike one of their own.
This first book in April Henry's Point Last Seen YA mystery series is full of riveting suspense, putting readers in the middle of harrowing rescues and crime scene investigations.
My Review:
Wow! This book kept me engaged start to finish.
Three (somewhat) misfit teens enter the Portland Search and Rescue for very different reasons. Alexis needs something stellar for her college applications so she can hope for a scholarship. Nick wants to be a hero, just like his dad who died in Iraq. And Ruby? She's a CSI wanna-be who has a detective's insight.
All of them have issues which is fun for me because their backstories are super interesting. The viewpoint alternates between the three main characters, at first, but we also get some short stretches in the mind of the killer and his victims.
Here's what happens–Alexis, Nick and Ruby are called out to search for an autistic man lost in a wooded area around Portland. Along their search they encounter a few men–none who can aid them. Nick is frustrated that they, being so new, are sent to search an area less likely to hold the missing man. We can really see his desire for the accolades of heroism–notably respect and attention from girls–but he's so eager he misses what the careful Alexis discovers: a body.
Now, Ruby, Alexis and Nick are the first on the crime scene. Ruby's memory and attention to the details of the scene are valuable, but we can already see she will become a nuisance to the detective on the case. Nick demonstrates a lot of bravado, always covering up his fears with a shrug and bluster. Alexis, well, she's shaken. She accepts some counseling from a teen intervention partner, Bran, who becomes a confidant later.
Search and Rescue is called out the next day to scour the crime scene for clues–and Ruby's conservative parents forbid her from going. Not that a F5 tornado could prevent Ruby from stepping into the investigator role. She goes, and is photographed for the paper. This is bad for two reasons: now her parents will see she disobeyed them, and secondly, the killer gets her name. See, he rather likes girls, and Ruby just lights up all his senses.
Over the course of a week, we learn that the dead girl was somewhat homeless, and there was another female victim of strangulation found in a nearby park not long ago. She was homeless, too. Ruby is fixated on the case and notices a third strangled homeless girl pop up in the news. This sets Alexis on edge because her mom suffers bipolar disorder and is off her meds. When she flees in a bout of paranoia, Alexis is sure she's living on the streets–at risk from what Ruby suspects is a serial killer.
The police aren't convinced there's a serial killer at work; the strangled girls were all from different races and homeless murder victims aren't uncommon in Portland. The trio bands together, even when Ruby's parents remove her from Search and Rescue for disobeying them. And, as we watch through the killer's eyes, this is not the worst calamity to befall Ruby.
I won't say anymore about the plot except this: the tension was fantastic! We don't know if the killer will find Alexis' mom, or Ruby. We know he's tracking many victims and it's so hard to wait and see who'll fall next. Also, there are three plausible suspects and, even with the bird's eye view, we can't tell who the killer is until pretty late in the book.
Alexis, Ruby and Nick are interesting, well-developed characters. They have real families with specific and relatable teenager problems. And, they work to solve their own problems. They are "normal" kids, ones you could encounter in any metro area in the US–not uber wealthy, or spoiled rotten, or super hackers, or broken. They just struggle along the way we all do, working within the system to achieve their goals, and that was refreshing. I really loved how Alexis reached out to Bran for some comfort when her mom went missing–but man was I scared when she went out on the hunt! Ruby's obsession with true crime and detective stories was really cool. And, poor Nick, that kid needs a hug. Maybe lots.
The book is thoroughly innocent of romance, but has scenes of violence associated with murder. The prose is specific and clean, and the story snaps along at a brisk pace with no info dumps clogging up the case, and well-handled misdirections. It's easy to see how these misfits grow into a unit, one that will spark friendships and comaraderie into future stories. Definitely would recommend for teens (and above) who enjoy murder mysteries and buddy tales.
Interested? You can find THE BODY IN THE WOODS on Goodreads, Powell's Books, Amazon and Barnes & Noble anytime aftoer June 17th. For now: Preorders, people! Thanks to NetGalley for this advanced copy to review….
About the author:
April Henry knows how to kill you in two-dozen different ways. She makes up for a peaceful childhood in an intact home by killing off fictional characters. There was one detour on April's path to destruction:  when she was 12 she sent a short story about a six-foot tall frog who loved peanut butter to noted children's author Roald Dahl. He liked it so much he arranged to have it published in an international children's magazine. By the time she was in her 30s, April had started writing about hit men, kidnappers, and drug dealers. She has published more than a dozen mysteries and thrillers for teens and adults, with five more under contract.
You can find her on her website, Goodreads, twitter and Facebook. Probably other places, too.
Thanks for stopping by, and keep reading my friends!