Being smart doesn't mean you know it all…
Hi there! Today's book is a contemporary New Adult romance from best-selling author Julie Cross. THIRD DEGREE follows the tumultuous world of 18-ish y/o Isabel Jenkins, MD. It's got blood, guts an most of all:  heart.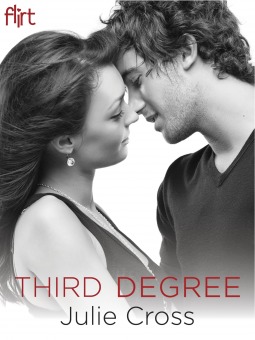 About the book:
I used to be "Isabel Jenkins, child prodigy." As lame as that sounds, at least it was an identity. But now I'm not sure what I am. I just failed the most important exam of my life—the emotional readiness test required to get into a medical residency program—and it turns out my parents can't stand each other. Now I'm trying to figure out how to pick up the pieces of my life, and that means re-enrolling as a college freshman, but this time I'm shutting the books and majoring in being eighteen.
But so far, my roommate hates me and I'm not into the party scene. The only good thing about school has been getting to know my insanely hot RA. Marshall Collins makes me wonder about everything I missed while I was growing up too fast. Pretty soon we're hanging out constantly, but for the first time, I find myself wanting more than a no-strings-attached physical relationship. And the lesson I really need is one Marsh definitely can't teach me: love. Because I'm going to be alone forever if I don't learn fast.
My Review:

Back in the day there was this TV show I loved about a child doctor. While my kids will forever know Neil Patrick Harris as the snarky, sex-hound Barney Stinson, I lost my teenaged heart to a soulful Dougie Howser, MD. Which is why I wanted to read this book.
Isabel Jenkins has always been brilliant. And difficult. Her adoptive parents have loved her the best they could, but raising a freaking mega-genius hasn't been easy. She read novels at age 4. She spent one week in Kindergarten and was then homeschooled–couldn't cope with the kids, apparently. She "entered" college at 12, and finished med school when she was 17. And, at nearly nineteen she's poised to enter a surgical residency at Johns Hopkins.
Then she's given a re-boot. The psych exam she was required to take wasn't too favorable. Seems Isabel is unable to 'connect with others' due to a 'lack of life experience'. This blacklists her from residency programs across the country. She can sit for the psych exam again in 6 months, and has no desire to do research, so she embarks on a 'personal journey': college–for real this time. No private tutors, no learning in isolation. She has a dorm room and a cheerleader roommate named Kelsey. And a delectable RA, Marshall, who, as it turns out, had Isabel's mother as a biology teacher in high school. Marshall's the only one who knows Isabel's a doctor–and she'd like to keep that info on the down low. Blend with the natives, and all that.
Unfortunately, Izzy, as she calls herself on campus, is NOT managing. She tries–really–but she almost can't help being the socially awkward kid she is. Having always been the "prodigy" all her eccentricities were absorbed by the adults around her and she has no boundaries–because none were ever set. It's no surprise that she blurts out random medical facts when in conversation, and oversteps continually, in the most exasperating ways. Like she NEEDED to swab the flaccid member of Kelsey's overnight guest because she thought she saw a sore? *shakes head* #EpicFail #NotNormalIzzy
Marshall does heroic work to save Izzy from becoming a social pariah, and, in the process they become study-buddies; she helps him pass Anatomy, and he helps her learn to be a regular person, perhaps even develop friendships.
As Izzy's RA, Marshall isn't supposed to develop a crush on Izzy–but don't let a few rules get in the way there, Marsh! Actually, there's a lot of sexual tension with a slow build toward consummation. In fact, it is Izzy in her medical element that wears down the last grooves in their mutual resistance. Turns out Marsh is sick–and Izzy's the one to find and help him in his days of need.
Just as Izzy gains the sense of empathy she had been missing, she recognizes the problems she had caused by her proficient, yet callous, bedside manner. Overwhelmed with feelings she had never really experienced: love, regret, shame, guilt. She steps away from Marsh–running back to the sterility of medicine and the comfort of knowledge.
Only, this time medicine isn't the home she used to know, and reconciling with Marsh may become the most important choice she makes.
As a book, it was a well-paced, interesting story. Izzy has clear emotional issues, she's antisocial to an almost pathological degree. Her brilliance may grant her access to the medicine party, but what's the point if you never get a chance to dance, right? I really enjoyed the slow build between Izzy and Marsh, how his chronic disease was handled and the baby steps Izzy took toward building lasting friendships. Her growth emotionally was refreshing–seeing her admit that her knowledge wasn't helpful in actually connecting with the people around her was such an Aha! experience.
Couple things that troubled me: the whole way the surgical intern/residency issue was described was factually…off. Medical residents in the US don't apply for one then the other, not anymore. Not for, like, 25 years now. Those sort of arrangements are made when a student is graduating med school, so I had to take it as a "special case for Isabel" sort of caveat. And, this psych eval, while critical to the story, is also an Izzy-ism. There aren't many prodigies who enter medicine in the US, but they are almost all shunted into research programs to allow them maturity time. This is for everyone's benefit. Close people to me have entered residencies at age 26–rather standard–and they were not taken seriously by their patients–due to their youthful appearance. As much as I admired Dougie, I really wouldn't have wanted a pimply-faced teen (no matter how brilliant, talented or self-righteous *V gives Lorde the stink eye*) lecturing me about my life and/or my passionate love affair with peanut buster parfaits. And neither do most adult patients. Further, I'll take Izzy's negative view of research as another instance of her naïveté, because ain't one physician alive who doesn't value scientific medical research. I know, 'cause I been doing it for twenty years now.
Still, for fiction this felt good to read. We can always use another representation of responsible teens doing responsible things in fiction. The New Adult tag aside, smexytimes here are tame enough that upper YA readers won't giggle too much. Izzy is to be lauded for her courage, in determining who she is, and who she wishes to be–and then making a responsible plan to achieve her goals. That is NOT to say she makes good choices throughout–'cause she doesn't–but she does enough of the right things at the right times to make me like her. A lot.
Interested? You can find THIRD DEGREE on Goodreads, Amazon and Barnes & Noble. I received a review copy of this book via NetGalley in exchange for my honest opinion.
About the Author:
I'm the International Bestselling author of the Tempest series, a young adult science fiction trilogy which includes Tempest, Vortex, and the final installment, Timestorm. I'm also the author of the Letters to Nowhere series, a mature young adult romance set in the world of elite gymnastics, as well as several forthcoming young adult and new adult novels with publishers like Entangled, Sourcebooks, HarperCollins, Random House, and St. Martin's Press/Thomas Dunne Books
I live in Central Illinois with my husband and three children. I'm a former gymnast, longtime gymnastics fan, coach, and former Gymnastics Program Director with the YMCA. I'm a lover of books, devouring several novels a week, especially in the young adult and new adult genres. Outside of my reading and writing credibility, I'm a committed–but not talented–long distance runner, creator of imaginary beach vacations, Midwest bipolar weather survivor, expired CPR certification card holder, as well as a ponytail and gym shoe addict.
You can find Julie online via her website, Goodreads, Facebook and twitter.
Thanks for popping in today! I'd like to highlight a recently reviewed book that is currently FREE for download: CHALLENGING DESTINY by Cherie Colyer. Hit here to get your own copy!
Hope you find a great book today, and keep reading my friends!